When we think of the Netherlands, our thoughts automatically go to Amsterdam. Amsterdam is our capital city known for its coffee shops and red-light district. But did you know there is so much more to Amsterdam than these two things?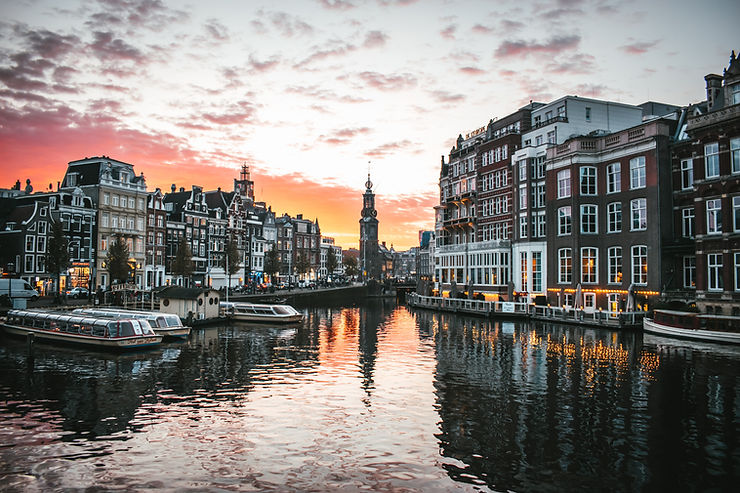 What could your first 24 hours of being in Amsterdam look like?

First off, you need to leave the airport, then it's time to wander around the city and visit some of the many highlights. As mentioned above, there is so much more to Amsterdam than most people think. Therefore, below we will describe what your first 24 hours in Amsterdam can look like! It is time to get hyped up about this amazing city.
Your first 24 Hours in Amsterdam Schiphol Airport – City center It is most likely that you arrive at Schiphol International Airport. This big hub is known to take many people from- and to the Netherlands. Once you have reached Schiphol, it is time to head towards the city. There are three different ways of doing this:
1. taxi

Platforms such as Uber and Bolt are well-adopted in Amsterdam. The drivers can come straight to the exit of the airport and drive you to your destination. The estimated price would be around €50.– to €60.- The duration of the drive will be around 45 mins. We do recommend booking a taxi through an app like Bolt instead of going to the cars and people hustling outside since these people are likely to charge you much more. If you decide to book one, be sure to download Bolt with this link to receive a €15 discount on your first ride!
2. bus

One of the options for public transport is taking the bus. Bus 395 is probably one of the best options to take you into the center of Amsterdam. It stops for instance at Museumplein and Elandsgracht and after that, you can hop on the tram or just walk to your destination. Keep in mind, Amsterdam is tiny so much can be done walking 😉 Bus tickets can be paid for on the bus by cash (Euros!) or a master/credit card.
The duration of your trip depends on which bus you take, the number of people getting off at different stations, and how long you need to wait for the bus to arrive. The price for the bus is around €15.– per person and this ticket is most of the time not valid for the tram- and metro system in Amsterdam. This makes it quite expensive if you are traveling with a group so maybe consider the next (more affordable) option.
3. train

The last option is to take the train. This is probably our favorite option as it is easy and quick. In the main hall of Schiphol Airport, you can find the trains when you take the escalator down. All you need to do is buy a ticket at one of the yellow machines that are located in the main room before leaving the airport. You will pay €5.20 and the train takes about 15 minutes to Amsterdam Central station. From there (Depending on where you need to go) you can take the tram, or walk into the city center.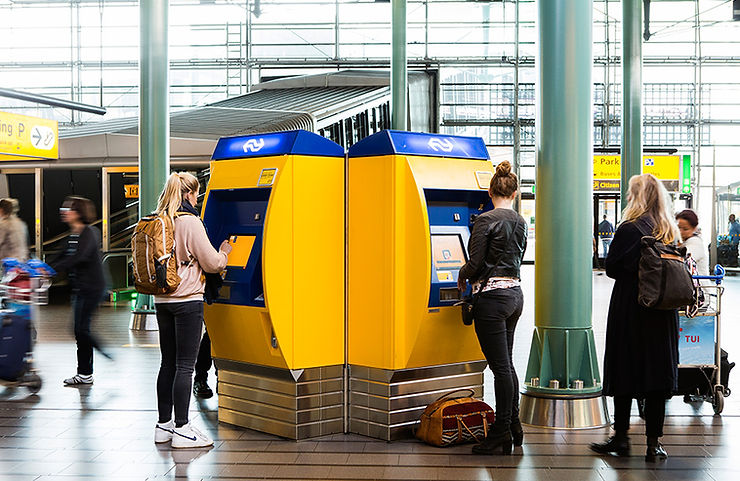 Inside the city center
Once you have made it to the Amsterdam city center, the options are numerous to go and explore. However, we do recommend you drop off your luggage first since your belongings could be at risk if you don't keep an eye on them at all times!
Here are a few options:
Food Who doesn't want to eat after traveling and making it to a new country, am I right? No matter what time of day, you will always find places to eat in Amsterdam. It doesn't matter if you are looking for breakfast, lunch, or dinner.
Amsterdam is a multi-cultural city. When searching for a restaurant, you will i.e. notice Asian, Mexican, and Italian restaurants! So if you did not get it yet, traditional Dutch cuisine is not that popular in Amsterdam..! We do however still have our traditional pancakes (with apple and bacon), poffertjes, and of course, Hearing! The easiest way to find a restaurant to your liking is Google. Search and you will find!
Small tip, soon, we will launch a free list of the best places in Amsterdam to go to including bars & restaurants! Because there are so many restaurants, it is possible to just wander around, and sit down at the one that attracts you. We do, however, recommend avoiding the ones based on the most touristy streets such as De Leidsedwarsstraat since they are a bit of a tourist trap.
If it is lunchtime, we probably recommend you to go to the "Albert Kuijp market" and snack your way through all the market stalls. Another great place (mainly for dinner) is "De Food Hallen". This is a place with many small, high-quality food stalls and it has a cozy bar located in Amsterdam West. It is always. busy here so you might have to wait a bit for a table.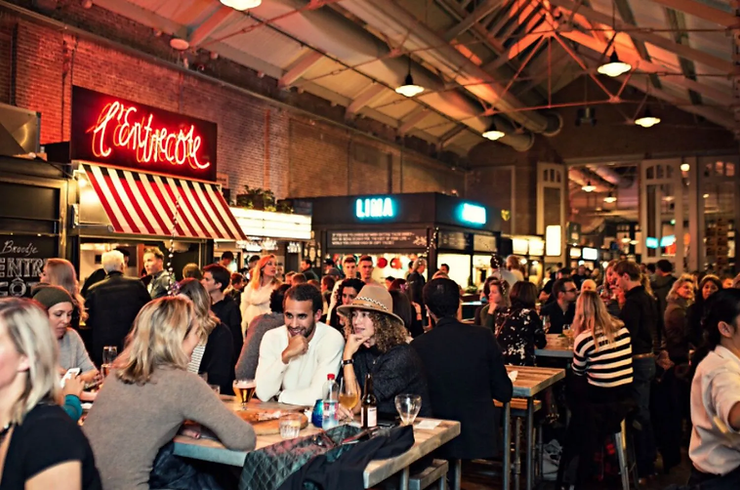 culture

Are you a fan of culture? Then Amsterdam is the correct city for you. The best way to reach the different museums is to go by tram or by bike, just be sure to follow the road signs!
We wrote an article about our favorite traditional museums in Amsterdam! Find the article here.
STRAAT This is a very cool museum with many large graffiti artworks in Amsterdam North. We definitely recommend you to have a walk through this exposition since it is really interesting to read all the stories behind each work of art. You can go here by taking the free ferry to Amsterdam NDSM that leaves from behind Central Station. From there, it is a 5-minute walk. You can get an entry ticket upon arrival.
Rijksmuseum Probably the most renowned museum in the Netherlands is the Rijksmuseum. This museum shows artwork and pieces that are popular all over the world. If you plan to go here, you should definitely take your time as it is a big building with a lot to see!
Nemo Science museum Not a lot of people have heard about this museum but we really like it! In this museum, they show different science experiments and explain what is all possible if you combine the elements in the correct way. If you are traveling with kids, be sure to go here since they will have a great time here!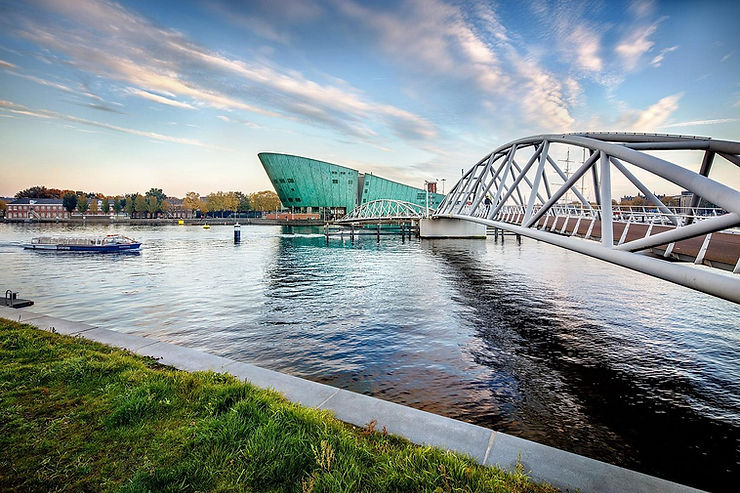 Parks
If you like nature and are done with the busy streets for a bit, then visiting one of the many parks in and around Amsterdam is a great idea, especially when the weather is nice. The best way to reach the parks is again by tram. We recommend stopping by a supermarket first to create a nice picnic. You will find that this is one of our favorite things to do when the weather is nice!
This is the most famous park in Amsterdam. You will see many people running or chilling in the Park. When the weather is nice people will be picnicking, and some will be playing music. Keep in mind that this park can get quite busy on a hot summer day.
Another park is the Oostpark which is located in the east of Amsterdam. It also has beautiful ponds and nice open fields to relax in, but it is not as busy as Vondelpark. It is also in a different part of town ( Oost) that is worth checking out.
Westerpark is as you may have guessed in the West of Amsterdam. It is a great place to relax and watch the sunset and it also has some cozy bars in the area. . This park is quite peaceful and it is actually one of the few places in town where you are allowed to have a small BBQ (this can only be done in certain areas).
nightlife

After a successful day out and about in the Netherlands' capital city, don't worry. This city never sleeps. So even at night, there is plenty to do and see. There are many bars, beer tours, and musicians all in and around the city that you can enjoy. Most tourists end up getting stuck in the area around Redlight district or Leidseplein. However, this is not where you will find the locals. If you are looking for a bit less touristy bars, and pubs we recommend going to the area "De Pijp", or "Jordaan". Here you will find much cozier places where you can mingle with the locals 🙂
The best places in town for drinks or food will, once again, be stated in our list of Amsterdam hotspots that will go live soon!
Keep in mind that (most) public transportation stops after 1 Am. Yes, there are some night buses, but these are quite expensive and often take longer so we would recommend taking an Uber if you do not want to use a bike like the Dutch tend to do. Don't worry, Amsterdam is relatively safe so even at night, it is safe to walk and bike through town.
some final thoughts

We hope this article got you excited for your first 24 hours in Amsterdam, and that you now have an idea of the places you would like to go to once you have arrived. Do you still want to know more? Feel free to reach out!
Have a look at our article about the Architecture in Amsterdam To get in the mood for your next travels..!