You've just arrived in Amsterdam after a long journey and you're feeling pretty darn hangry. Sure, you can go for some traditional Dutch herring or maybe even a stroopwafel, but why not go for a delicious, steaming bowl of ramen instead? Ramen is one of those meals that's just nurturing in every way imaginable. It's the perfect antidote to winter days in Amsterdam (or a hangover). From the rich broth to the noodles and toppings that make your mouth water. It's versatile, satisfying, and absolutely umami.
Although this yummy soup has its origins in China and Japan, it's widely popular all over the world. And it shows – Amsterdammers just can't get enough of it! Here we've compiled a list of the best ramen restaurants in Amsterdam, according to our very own taste buds as well as popular reviews. Eet smakelijk!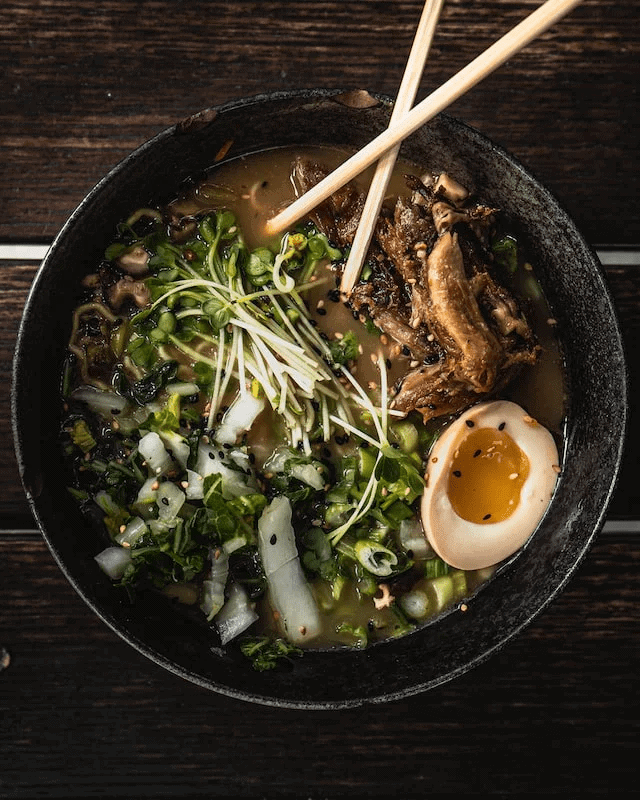 7 Best Ramen Amsterdam
1.

Sapporo ramen sora

A personal favorite of mine, Sora is a restaurant located on Ceintuurbaan in De Pijp as well as in West. The first time I visited the Sora in De Pijp I almost walked right past it because it's so small! But don't let the size of the place fool you – Sora's ramen is absolutely delicious. The recipe is pretty authentic as the chef worked in Sapporo, Japan. I'd definitely recommend paying this place a visit during the summertime as you can enjoy your ramen on the terrace outside.
2.

dun yong kitchen

Located above the toko Dun Yong on Zeedijk, this ramen restaurant is considered a "secret hotspot". Here's the story: Chef Taka was working an office job in Amsterdam when it struck him that healthy street food was not easy to come by. He decided then and there that he wanted to change that. After spending four years in Japan learning all the culinary ins and outs, Taka came back to Amsterdam and made his dream come true. This restaurant is a true gem and has raving reviews – definitely one worth trying!
3.

hinata

This one is for the ones who like their whiskey with some ramen on the side. Hinata literally means "sunshine", and that's what you'll be feeling inside once you enter this cozy restaurant. Located in the wonderful area of Jordaan, Hinata serves delicious ramen (with vegan options!) as well as Japanese curry and Donburi. Their Japanese whiskey selection is extensive, making it the perfect spot for a boozy dinner.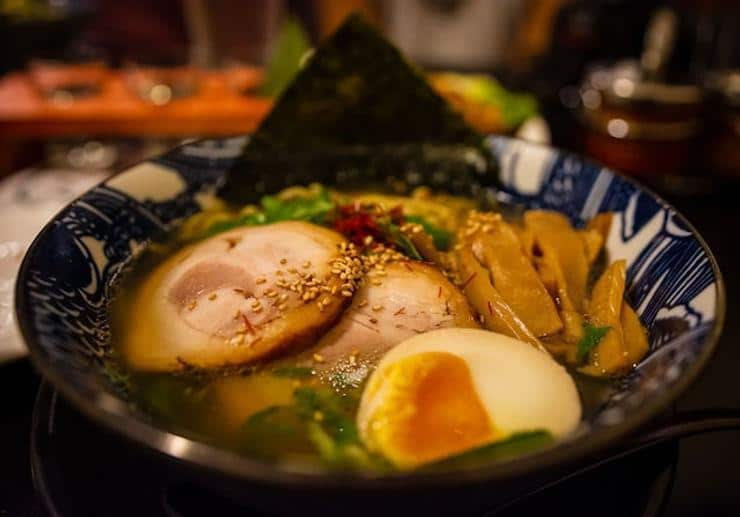 4.

vatten ramen

Vatten's mission is to create a new wave of Japanese street food in Amsterdam. They pride themselves in their great variety of ramen options (from different noodle types to vegetarian and vegan options) as well as the amazing quality of their food. Chefs at Vatten have learned their techniques directly from Michelin award-winner Mr. Hideto Kawahara. Their signature white broth is made directly from local Dutch chickens and is stewed for days on end, adding a beautiful depth to the flavor. Don't miss this one!
5.

takumi

Takumi's story begins with two chefs, Mr. Saeki and Mr. Okada, who worked together in Amsterdam in 1995. They dreamt of opening a ramen restaurant together but circumstances drove them apart. When they were finally reunited after several years they opened their first ramen shop together in Dusseldorf before expanding to cities all over Europe – including Amsterdam! Takumi has a great vibe and even better ramen. They also have a loyalty programme, ensuring that you can win a free meal after collecting enough points.
6.

Molly's Arena

What's better than ramen? Ramen and arcade games! Molly's Arena puts a modern twist on the average ramen shop by combining it with loads of Anime-related arcade games. From VR simulators to old-school music blasting from the speakers, you can get lost in Molly's Arena for hours. It definitely has the coolest vibe, making it perfect for an outing with friends or a date – and the ramen is absolutely divine.
7.

Umaimom


Umaimom Ramen Restaurant is a nice place for ramen fans. They serve delicious and creamy bowls of ramen until 10 PM. The people who run it are the same Japanese owners as Takumi and other good places in Dusseldorf. Umaimom is a special experience. Their best dish is the creamy chicken ramen (#1 on the menu). It's different because it's not the usual pork broth. They also put crispy fried chicken on top, which makes it even better. The chicken is tasty, the broth is full of flavor, and the toppings are generous. Even though some people might want more noodles, the amount they give you is enough for a good meal. If you want more noodles, you can pay a bit extra. There might be lines and waiting because it's popular, but once you're inside, the service is really good. The best dish is the Creamy Chicken Ramen, and it's real Japanese food. The portions are big, and they serve until 10 PM. But remember, there are limited noodles and no pork choices. Even with a few things to think about, Umaimom Ramen Restaurant is still a great place to have yummy ramen, especially the creamy chicken ramen for 16.50 euros per bowl.
Conclusions
Amsterdam is an amazing, vibrant city with an equally amazing selection of restaurants to choose from – and let's be honest, there's nothing more wholesome on a rainy day than a hearty bowl of soup. Ready to go ramen-hunting? I know I am.
P.S. Don't forget to tag us on social media (@dernederlanden) on your next trip to the Netherlands!