Want to get a taste of how diverse Amsterdam really is? Then visit one of the city's incredible street food markets! At the six markets below, you'll be served quickly, eat for cheap, and explore Amsterdam's picturesque streets – all at the same time! You'll also discover that Amsterdam is a real gastronomic hub, where you can try delicious food from different corners of the world. Ready for a real feast? Check out the best street food markets in Amsterdam:
1.

Albert Cuypmarkt

Not only is Albert Cuypmarkt the most famous market in Amsterdam, it's also one of the biggest ones in the city. Located in the bohemian neighborhood of De Pijp, this 100-year-old market features stalls of all sorts. You'll find vendors selling flowers, chocolate, cheese, second-hand clothes, jewelry, and of course, some of the best street food in Amsterdam!

At Albert Cuyp, you can enjoy some world cuisine classics, such as falafel wraps, spring rolls, empanadas, and more. But you'll also find lots of traditional Dutch street food here. Feeling fishy? Go for the pickled herring or a portion of kibbeling (fried fish bites). For some cheesy goodness, try a grilled cheese sandwich filled with traditional Dutch kaas. And if you have a sweet tooth after all of that, have a giant stroopwafel or some freshly-made poffertjes!

Albert Cuypmarkt | Albert Cuypstraat, De Pijp | Opening hours: Monday through Saturday, from 9:30am to 5pm. Closed on Sundays.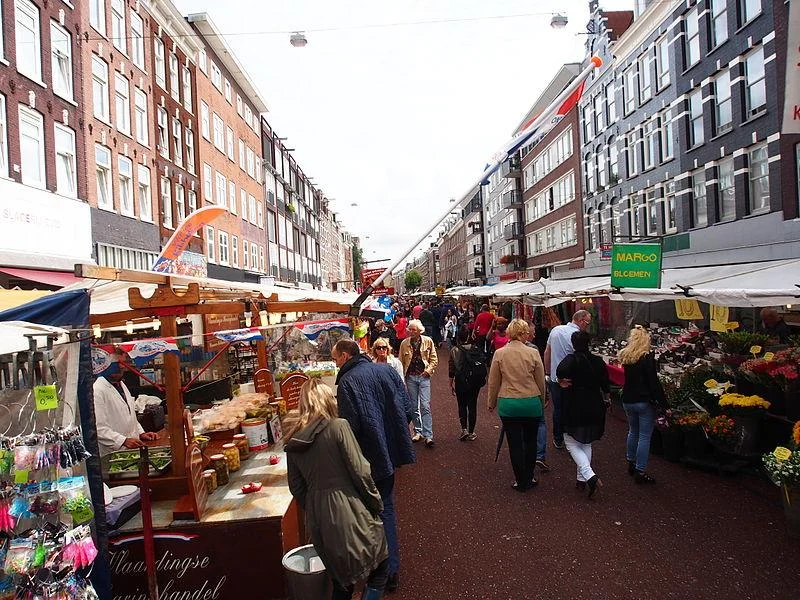 2.

Foodhallen

Foodhallen is perfect for those who want the variety of a traditional market with the quality of a top restaurant. Lively and hip, Foodhallen is a self-declared specialist in celebrating all flavors. After a day full of exploring Amsterdam's beautiful streets, you'll revel in the comfort of finding everything from a dim sum bar to a French patissêrie all under one roof. And if you're looking for Dutch flavors, you'll find a bitterballen bar and a Dutch meatball stall here, too. Just make sure to avoid peak lunch or dinner times – Foodhallen tends to get busy!

Foodhallen | Bellamyplein 51, Oud-West | Opening hours: Every day from 12am to 12pm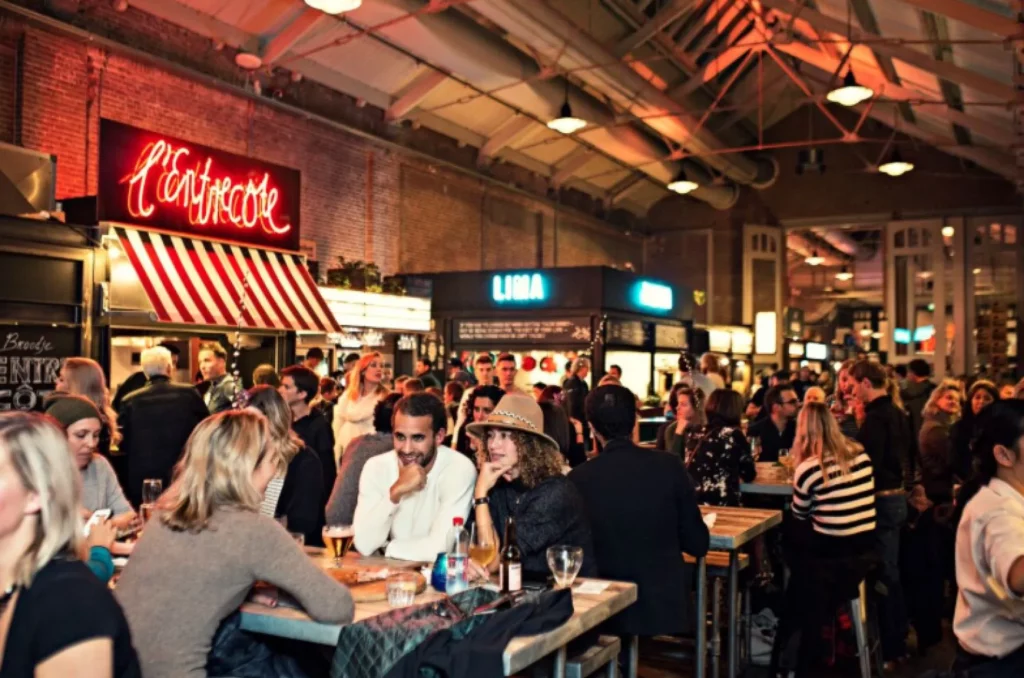 3.

noordermarket

Despite being the smallest street food market on this list, Noordermarkt is surely one of the most charming! It takes place on a quaint church square located in one of the city's most traditional neighborhoods, the Jordaan. Squeezed in between the magical Noorderkerk and the canals, you'll feel like a real Amsterdammer while enjoying delicious pastries, spring rolls, and cheese here. Furthermore, this market is located right next to the famous café Winkel 43! This is the home to Amsterdam's best apple pie!

Noordermarkt | Noordermarkt, Jordaan | Opening times: Mondays, from 9am to 1pm, and Saturdays, from 9am to 4pm.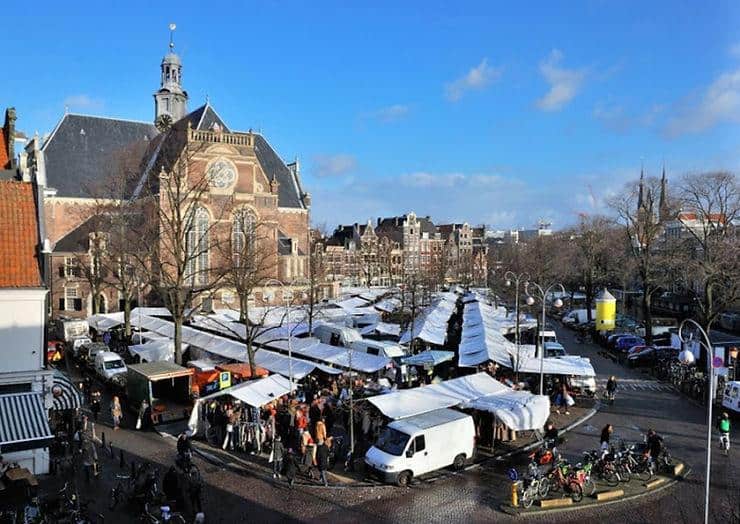 4.

Dappermarket

Dappermarkt is located in the east of the city – an area full of Amsterdammers from diverse cultural backgrounds! It's the perfect street food market for those who want to explore Amsterdam off the beaten path. This is an excellent place to enjoy some fresh kibbeling or a portion of warm poffertjes, but also to shop for fresh produce, clothes, and eve bike accessories. If you're looking for some hearty world cuisine, visit Beste Döner – the name is no exaggeration, they serve some of the yummiest kebab sandwiches in Amsterdam!

Dappermarkt | Dapperstraat, Oost | Opening hours: Monday through Saturday, from 9am to 5pm. Closed on Sundays.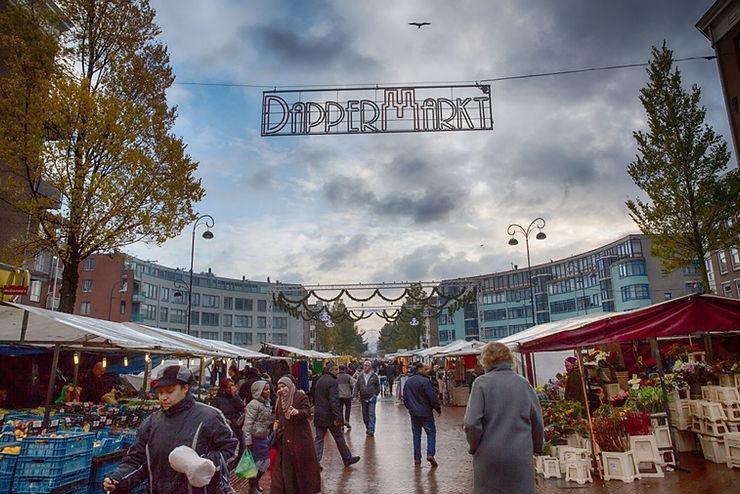 5.

Pure Market

ure Markt is Amsterdam's finest traveling street food market! Taking place every first Sunday of the month, it is always located in one of Amsterdam's gorgeous parks – usually Frankendael park, Amstelpark, or the Amsterdamse Bos. Most of the food served here is artisanally produced and locally grown, which makes for an extra special Amsterdam street food experience! Some of the delicacies sold here include wood-fired pizza, American-style baked goods, and fresh organic smoothies. If you're vegan, there'll be loads of options for you – so don't miss out!

Pure Markt | Check their agenda for the exact location and dates. | Opening hours: Three Sundays a month, from 11am to 6pm.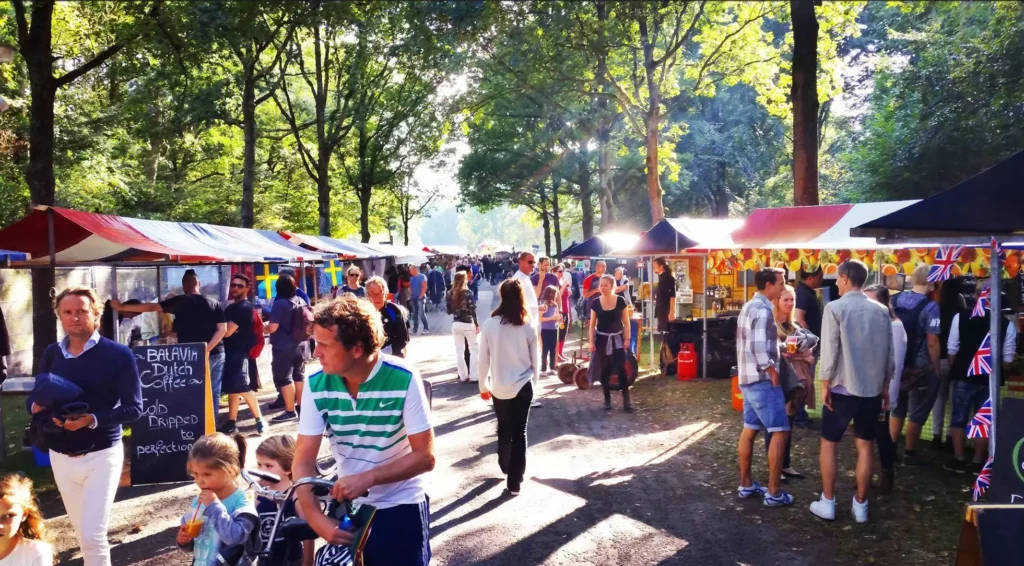 6.

Ten Katemarket

Ten Katemarkt is a lively and gezellig market located in Amsterdam's Old West area. Like other markets on this list, this is a place where you can find nearly anything – including some of the best street food in Amsterdam. Locals gather at Ten Katemarkt to enjoy homemade hummus, Taiwanese dumplings, Brazilian cheese breads, and more. The street where the market is located – Ten Katestraat – is also full of tasty eateries – so we promise you won't be short of options!

Ten Katemarkt | Ten Katestraat, Oud West | Opening hours: Monday through Saturday, from 9am to 6pm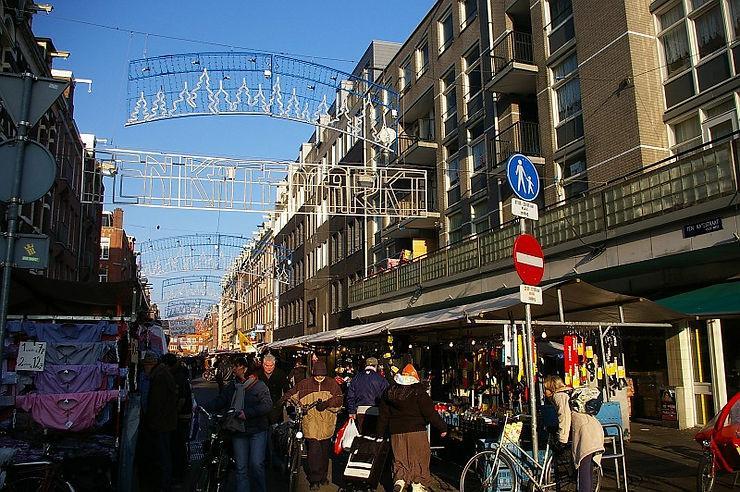 7.

Lindengracht market

Lindengracht market covers an area of 900 meters and has more than 230 stalls. The stalls are selling fresh food, fancy cheeses, and street food. Walking around the market, you'll smell yummy sausages, warm bread, and special spices that make you want to taste them. It's best to go to the market on Saturday morning to avoid the really busy time in the afternoon.

You must try the herring sandwich at Lindengracht Market, a kind of Dutch street food served on a soft bun with pickles and onions. If you're feeling adventurous, try some Dutch favourites like stroopwafels or bitterballen. Besides the tasty food, Lindengracht Market is also lively and fun. There's music playing and people performing on the street, so it's a great place to learn about the local culture while you eat.

Location: Lindengracht, 1015 Amsterdam | Timings: Open Only Saturday from 9am – 4:30pm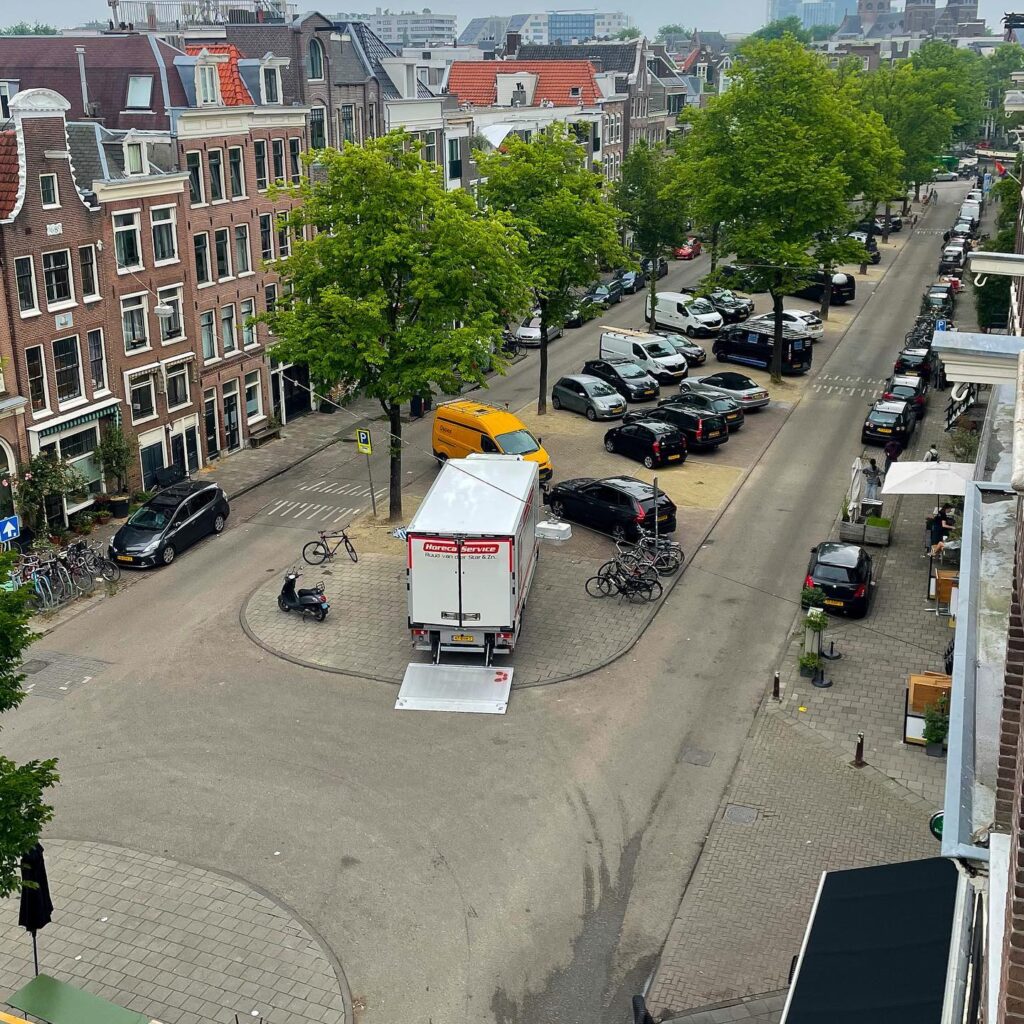 8.

Waterlooplein Market

Waterlooplein Market is different from Lindengracht Market and is one of the best flea markets in Amsterdam. While Lindengracht mainly focuses on food, Waterlooplein is a mix of things like used clothes and valuable old items. But in this mix, you can also find food stalls.

A particular food stall at Waterlooplein Market serves Surinamese food. This type of food is a blend of flavors from different places like India, Indonesia, and Africa. At this stall, you can enjoy tasty foods like roti, flatbread with curry veggies and soft meat, or bami, a yummy noodle dish. You can also find tremendous Vietnamese spring roll stands. Waterlooplein Market is a great spot to get a quick snack while you explore the city centre. The lively feeling and the mix of different foods make it a must-see if you love food and travelling.

Waterloopein Market | Lindengracht, 1015 Amsterdam | Timings: Open Monday – Saturaday, 9:30 am–5:30 pm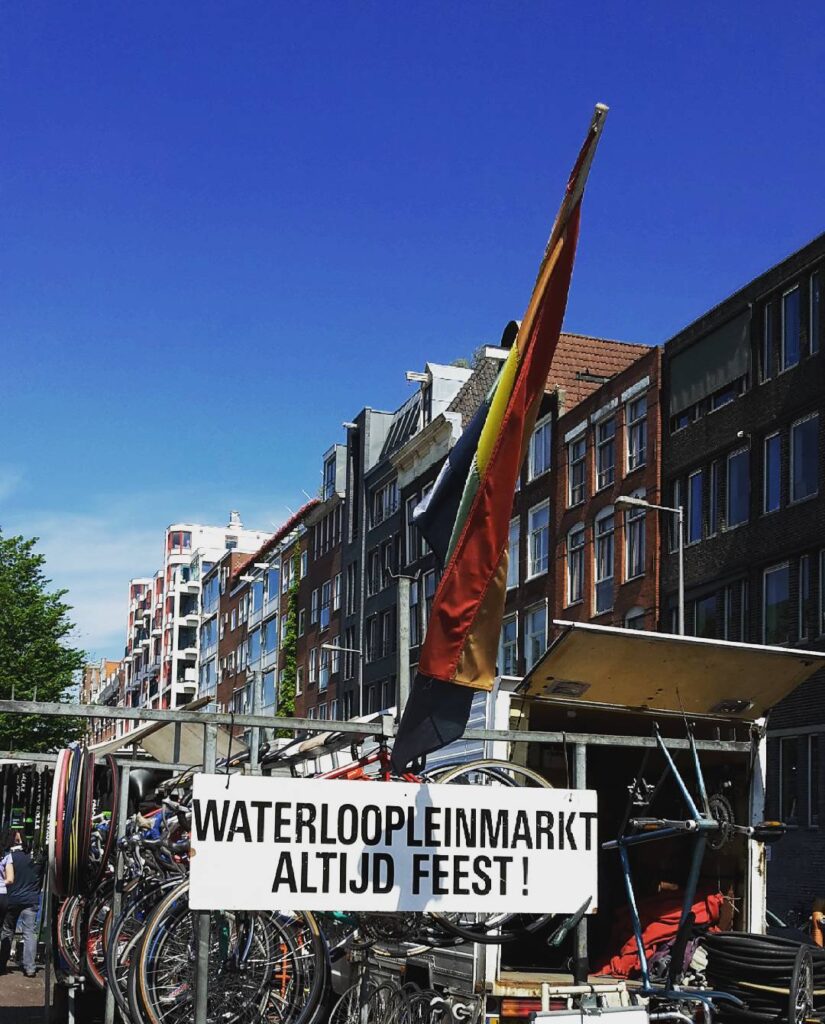 9.

ZuiderMRKT

If you want a market that cares about organic and eco-friendly food, ZuiderMRKT is the place to go. It's in the De Pijp neighborhood and is popular among people who like to eat healthy. There, you'll find lots of fresh fruits and veggies from nearby places. They also have street food stalls with meals that are both good for you and yummy.

One special stall at ZuiderMRKT sells vegetarian falafel. These crispy and tasty balls are made from chickpeas and different tasty herbs and spices. They put them on soft pita bread with fresh salads and creamy sauces. Whether you don't eat meat or enjoy good food, you should definitely try this falafel.

Besides vegetarian food, ZuiderMRKT also has other street foods like Mexican tacos and Mediterranean wraps. The market cares about food that's good for the environment and you. So, if you're looking for street food that's better for you, this is a great choice.

ZuiderMRKT | Lindengracht, 1015 Amsterdam | Timings: Open Only Saturday from 9:00am – 5:00pm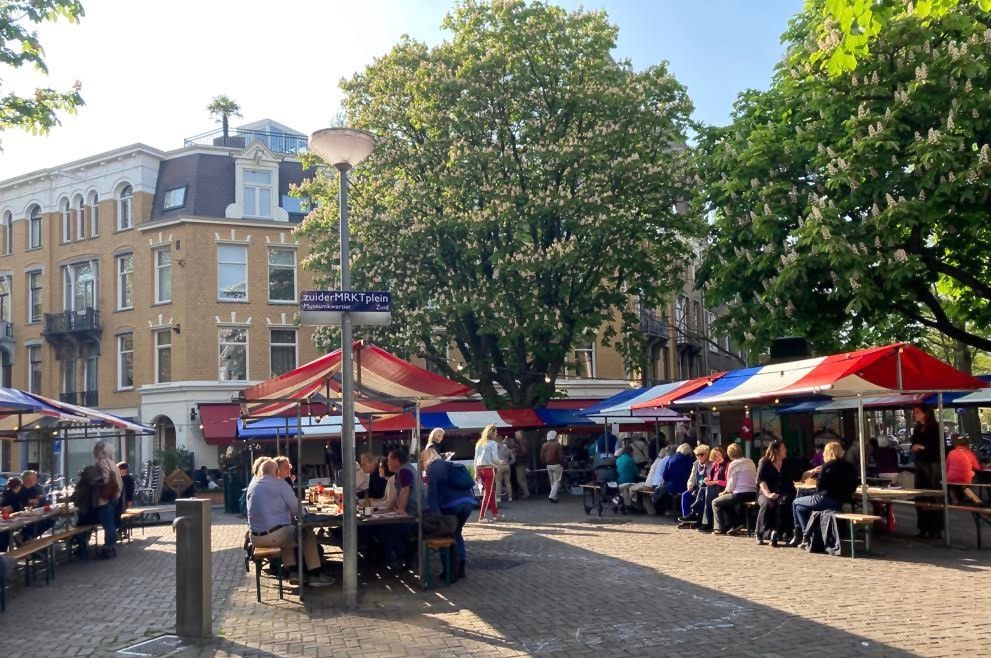 10.

Neighbourfood Market

Our last stop on this food adventure is Neighbourfood Market and is more than just eating yummy food. It's also about getting into the lively local culture. Take your time to walk around the market and chat with the nice people who have stalls there. They're happy to tell you their stories and suggest things to try.

While at the market, take advantage of the local special foods. Here, you should taste a herring sandwich, and freshly made stroopwafels. These little food adventures will give you memories you'll never forget.

Before you go, take a walk by the canals nearby and enjoy the pretty views of Amsterdam. The Neighbourfood Market is right in the middle of the city, so it's a perfect place to stop while exploring.

Neighbourfood Market | Pazzanistraat 37 Westergasfabriek, 1014 DD Amsterdam | Timings: Open Only Saturday from 9am – 3:00pm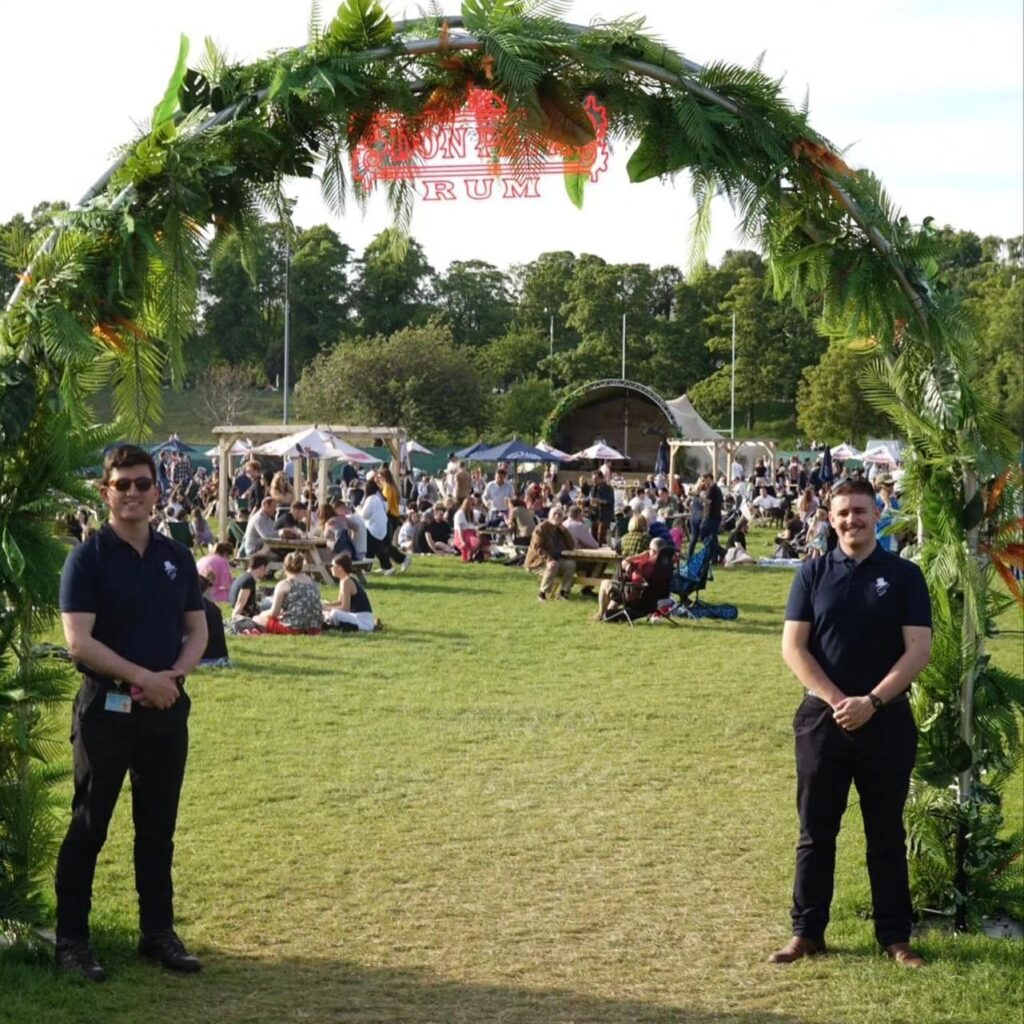 Enjoying street food in Amsterdam is not only a delicious idea, it's also a great way to explore the city and learn more about some of the Dutch traditions. If you're a tourist, visiting the markets will give you the opportunity to mingle with locals. And even if you're an Amsterdammer, what better way to spend a sunny day than to eat some tasty food and wander around? We hope you've enjoyed our selection of the best street food markets in Amsterdam. Don't forget to tag us on your Instagram stories (@dernederlanden) when you visit them!
Conclusions
Enjoying street food in Amsterdam offers a delicious way to explore the city and learn more about Dutch traditions. Visiting the markets gives tourists an opportunity to mingle with locals while giving Amsterdammers a way to spend a sunny day.
The variety of cuisines and quality of options at these markets showcases Amsterdam as a gastronomic hub where one can try delicious food from different corners of the world. Whether seeking traditional Dutch fare, world cuisine classics, or artisanal local offerings, these street food markets deliver memorable Amsterdam experiences through flavor.
So get out and explore these diverse markets. Immerse yourself in the lively atmosphere and indulge your taste buds with something new. Street food is not only delicious, it offers a unique window into the character of this vibrant and diverse city.