Imagine this: you wake up to the inner-city noises of Amsterdam. Birds are chirping, ducks are quacking, and cyclists are ringing their bells in rhythmic unison. It's been a restful night of sleep. It almost feels as though you've been floating all night. Oh, wait – you have been floating, because you're on a houseboat! commonly called as floating homes in amsterdam
Houseboats are one of the most unique features of the city. Anchored in the canals, these livable dwellings are like quirky apartments on the water with all the necessary amenities to live smack in the middle of the city throughout the entire year, winter or summer. Renting one for yourself might just be the best way to experience Amsterdam if you're visiting.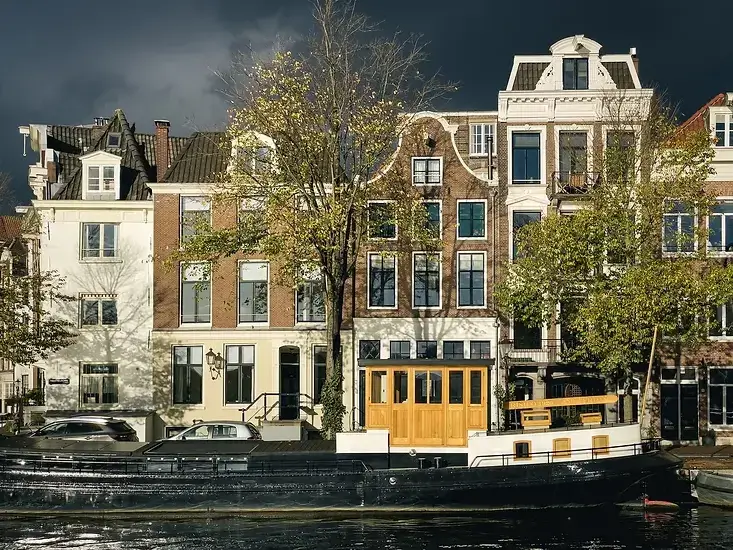 The story behind these rare boats – amsterdam floating homes

Amsterdam has always been a harbor city and a stop for merchants traveling between cities. In its earliest days, when petticoats were still a thing, the canals were built to accommodate merchants transporting heavy goods like coffee, spices, and tulips.
The very first houseboats in the city were restored ships from Amsterdam's trading history. While they still retain many of their original features even after over a century, they've been renovated to include modern comforts like electricity, heating, and running water. These classic boats are called woonschepen and can sometimes even still be used to travel in the water.
The oldest of its kind was actually recently removed from the water because it was at risk of sinking and blocking other boats traveling through the canal. Moored in 1888 at Prinsengracht, it stayed in place for over a century before old age took over.
While Amsterdam's housing shortage is a hot topic in today's day and age, it's actually been an issue for decades. As a creative solution after World War II (you can't say the Dutch aren't innovative!) cargo ships were renovated into woonarken, rectangular houseboats that were designed to float in a singular spot. These were cheap alternatives to regular living and attracted tons of artists and hippie types when they were introduced in the 60s and 70s.
Demand for these quirky houseboats skyrocketed and the government issued a halt on permits. There are about 2500 houseboats in the city today and they're definitely not regarded as cheap anymore, but instead, have gotten quite pricey for people looking to make one their home. These days, these boats are incredibly sought after by both residents and travelers alike.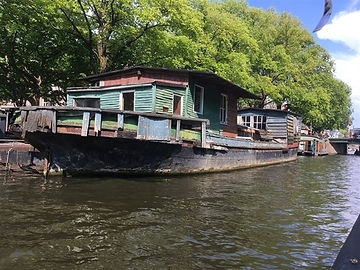 Don't get it twisted – living in a houseboat isn't for the faint-hearted. They require a lot of maintenance. People who live on a houseboat tend to compare it to marriage due to the intense commitment it takes, but because of that they also tend to develop a deep appreciation for their homes. Many people tend to name their boats and those who truly love the lifestyle embrace it for as long as their boats allow.
What makes houseboats so special?

Maybe it's the very thing that makes Amsterdam special: it's the feeling you get when you look around and see the crooked houses and the meandering canals. Nothing quite fits the way it should, the city seems chaotic and misaligned – and that's what makes it perfect in its own right. It's straight out of a storybook. Having random floating houses in the canals is one of those strange things that only make sense in a city like Amsterdam.
Although Amsterdam isn't particularly known for it, the sunsets in the city are actually amazing. The whole sky lights up pink, orange, and red. It reflects on the water and casts a soft light on the urban landscape. In the canals, a whole community of ducks and swans have made the water their home as well as an entire ecosystem of fish. Elm trees shade the canals in the summertime and by fall their yellow and orange leaves float on the surface, giving the city a magical glow.
Being able to experience life on a houseboat means you're connected to both the city and nature. Cracking open a beer while sitting on your boat and witnessing the bustle of the city and the serenity of nature is one of life's small pleasures. It's simple, but perhaps the best way to appreciate all that Amsterdam has to offer.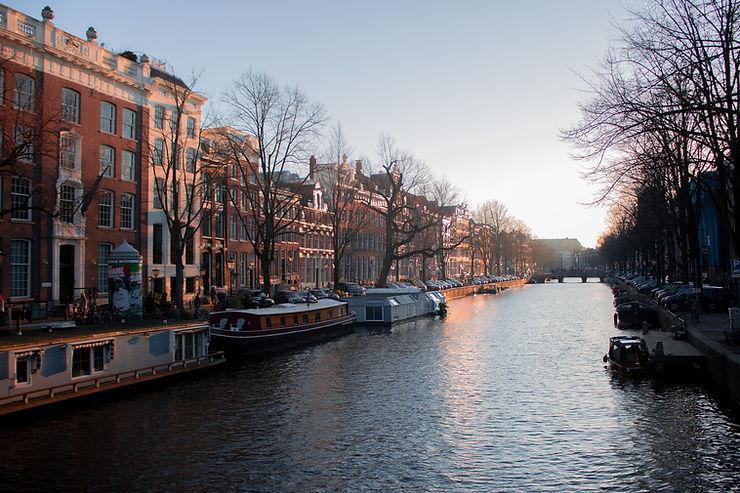 A unique alternative to Airbnbs

If you're booking your next trip to Amsterdam and you want it to be a truly unforgettable experience, maybe renting a houseboat could be a good option for you. Book A Houseboat offers a wide array of boats to choose from throughout the whole of the Netherlands (and more). Some are spacious and modern, with built-in hot tubs and beautiful terraces. Others are more rustic and will feel like you're stepping into history and off the grid. No matter your taste, there's a boat out there for everyone.
This counts for the type of holiday you're looking for as well. Whether you're celebrating an anniversary with your partner, traveling with a group of friends, or departing on a solo adventure; houseboats are truly amazing alternatives to hotels or Airbnbs that will elevate your experience of Amsterdam and make you feel connected to the heart of the city. Just make sure to be careful when stepping into your boat after a night out!