Amsterdam is known for its beautiful scenery and delicious cuisine, and when it comes to Korean cuisine, there are plenty of options, each offering a unique dining experience. From mouth-watering barbecue to delicious bibimbap, there's something to satisfy every craving. In this article, we'll review the top 10 Korean restaurants in Amsterdam that we've either experienced ourselves or have been recommended by our blog readers.
1.

10 Beste Korean Restaurants In Amsterdam
1.1

The Bab

Located in Camperstraat 36, The Bab is a newly opened Korean restaurant in Amsterdam that values ​​customer feedback to enhance the dining experience. "Bab" means rice in Korean and that's something you can definitely find here! Try traditional dishes like bibimbap (a flavorful mix of different vegetables), half-boiled egg with tofu or beef, Korean pancakes, and gambab (a type of sushi roll). The bab's welcoming staff and charming atmosphere make it a must-see for Korean food lovers. Although their menu is not extensive, offering a diverse selection of vegan and non-vegan Korean dishes, there is something for everyone.

Recommended Dishes: Bulgogi (marinated beef) and Bibimbap (rice mixed with vegetables and meat).
1.2

Khan:

This amazing Korean restaurant with many positive reviews on Google isn't just about the food. It's all about having a good time, as you watch the meat cook on the hot charcoal grill. Some of the menu highlights include a variety of bulgogi (including chicken, beef, pork and squid bulgogi) and Korean BBQ. What makes Khan unique is that you can cook the meat yourself for fun. Khan is a popular choice among locals and tourists alike, so be sure to visit.

Recommended Dishes: Kimchi Pancakes (a variety of buchimgae or jeon, primarily made with sliced kimchi, flour batter and sometimes other vegetables) and Korean BBQ

Read More: Best Turkish Restaurant In Amsterdam
1.3

Hwa Won

Hwa Won is a special place, as it truly captures the essence of real Korean cuisine in every bite. They have a menu full of delicious Korean food, and theirmenu includes Japchae, which combines sweet potato glass noodles with a variety of vegetables and your choice of meat, all perfectly balanced with soy sauce and sesame. The cozy and welcoming atmosphere, combined with the friendly service, makes Hwa Won a popular choice among locals and visitors alike. You can reserve a spot by calling at this number, +31 20 642 3142, as they have no website.

Recommended Dishes: For a true Korean cuisine experience, order the Japchae (stir-fried glass noodles) and the flavorful tofu kimchi stew.

Read More: Vegan And Vegetarian Restaurants In Amsterdam
1.4

Miss Korea:

If you want to eat Korean BBQ in Amsterdam, Miss Korea is the second place. You'll find it on the Albert Cuypstraat, offering a wide range of Korean BBQ options that allow you to cook your own meat at your table. They don't just have Korean food. They also serve Japanese food for more choices. You can eat delicious meats, delicious sauces, and Korean side dishes called banchan. Miss Korea is popular with both locals and tourists because it is really good.

Recommended Dishes: Their Galbi (marinated short ribs) and Haemul Pajeon (seafood pancake) gives a delightful fusion of old and new.
1.5

Kim Chi Wow

To try something different in Korean cuisine, visit Kim Chi Wow in the De Pijp neighborhood. They make Korean food in a new way. The highlighted thing on their menu is called bibimbap, which is rice with lots of toppings and sauces. You can choose your choice of vegetables, meat and sauces. Kim Chee Wa also has other Korean foods such as bulgogi and kimchi pancakes. It's a fun place with good staff, and people love it.

Recommended Dishes: Kimchi Fried Rice and Spicy Tteokbokki (rice cakes) are the best in their menu we've tried.

Read More: Ramen Restaurants In Amsterdam
1.6

Seoul Food

We also like this place because it's cozy and looks like a traditional Korean cafe. Seoul Food in Amsterdam offers takeout options, or you can sit down at a table for a quick lunch. Inside the cafe, they serve homemade hot and cold Korean drinks, and they sell Korean snacks, face masks, and K-Pop merchandise (South Korea's most popular boy band).

Recommended Dishes: Try their mouthwatering Mandu (dumplings) and K-Taco for a taste of Korean street food culture.xc
1.7

Gangnam

Gangnam chicken is a Korean restaurant in Amsterdam that offers a delightful dining experience. They specialize in Korean-style chicken, offering a range of options from succulent bulgogi to mouth-watering Korean fried chicken. If you are a vegetarian, don't worry. They have options for you too, so everyone can enjoy the delicious flavors of Korean cuisine.

Recommended Dishes: The Original Gangnam Chicken and Honey Butter Chicken are absolute must-tries.
1.8

Bibimbap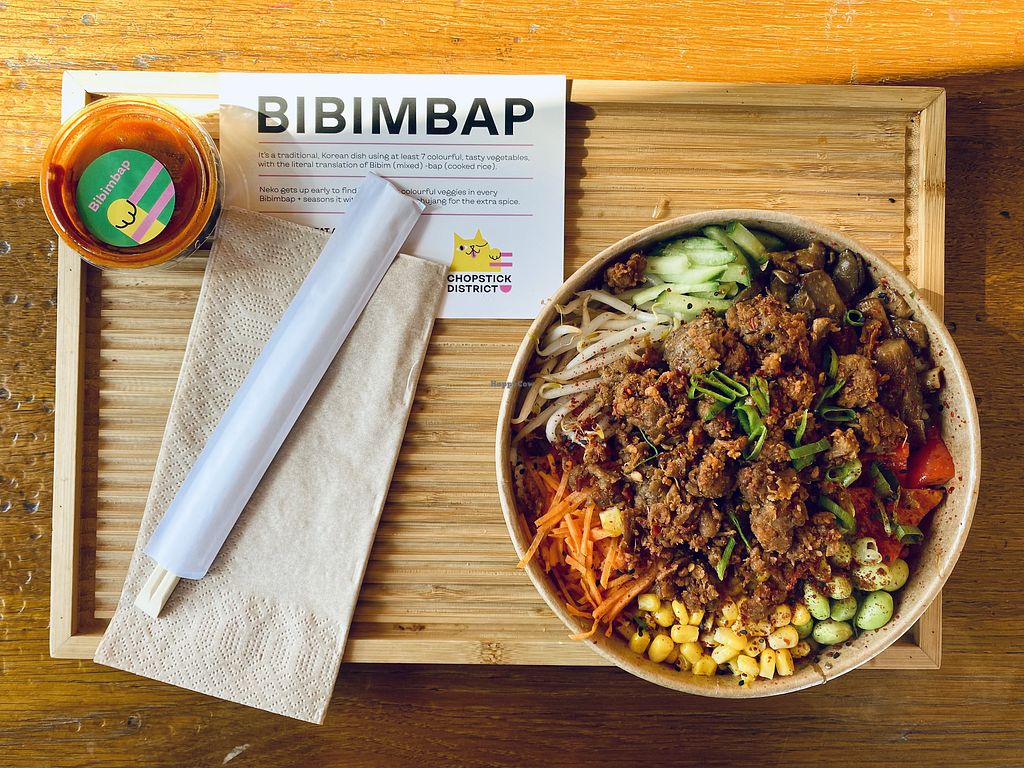 As the name suggests, Bibimbap specializes in the popular Korean dish, bibimbap (a delicious rice dish). While there are many great restaurants to try this dish, this restaurant at Eerste Constantijn Huygensstraat 41H offers a variety of bibimbap that you can customize according to your taste and preferences. They use things like beef, vegetables and fried eggs to make it really tasty. This is also a great place to experience Korean food.
Recommended Dishes: Create your own Bibimbap bowl with your choice of protein and toppings.
1.9

Sojubar

Sojubar is a restaurant that combines traditional and new flavors. One of their signature dishes is the Bulgogi Tacos, which combines Korean marinated beef into a taco. This dish is a delightful surprise, offering a harmonious blend of textures and flavors that showcase the creative side of Korean cuisine. You can find this place at Ferdinand Bolstraat 13-15. They have a lot of Korean food and a fun atmosphere where you can eat, drink and have a good time with friends. They also have some interesting drinks and games like beer pong.

Recommended Dishes: Enjoy their bosam (pork belly wraps) and a variety of soju cocktails for a Korean-inspired night out.

Read More: Street Food Markets In Amsterdam
1.10

Seoul Sista Amsterdam

Seoul Sista is another Korean BBQ restaurant that serves really good and delicious Korean food. At Korean barbecue, you can prepare your meat and vegetables on a grill, built into the table. They also have a special soup called gamjatang, made from pork bones, which tastes like home cooking. It's about sharing food and traditions with family and friends. You can find Seoul Sista Amsterdam at Reguliersdwarsstraat 20. They also offer many other dishes so you can try many different dishes and explore Korean cuisine.

Recommended Dishes: Try their korean BBQ, Kimchi Quesadilla (a fusion dish that consists of a tortilla filled with a mixture of melted cheese and kimchi.), Korean Tacos, and Gamjatang for an inventive fusion of flavors.

Make a reservation at La Maschera Lillotatini here!
Conclusions
As you navigate through the diverse and flavorful offerings of Korean cuisine in Amsterdam, you're not just exploring food – you're delving into a cultural exchange that enriches the city's culinary tapestry. Each dish tells a unique story, a fusion of tradition and innovation that reflects the global nature of Amsterdam's dining scene. So, seize the opportunity to immerse yourself in this delectable journey of the best Korean restaurants in Amsterdam.