Amsterdam, the captivating European destination in the Netherlands is known for its picturesque canals, charming bicycles, diverse cultural events, and world-renowned museums. However, the increasing popularity of this city has left many travelers wondering: Is Amsterdam expensive to visit? Can you explore this beautiful city without breaking the bank?
Is Amsterdam expensive to visit:
No, Amsterdam cannot much be expensive to visit as other european cities. However, Prices for accommodation, food, and attractions are relatively high compared to some other European cities. But we have a great experience and extensive research to help you plan a budget-friendly trip to Amsterdam. In this guide, we'll cover various aspects of your journey, including:

Flights costs from a few major hubs
Different types of Accomodations & their costs
Transport cost to visit around the city
Food & Drink Costs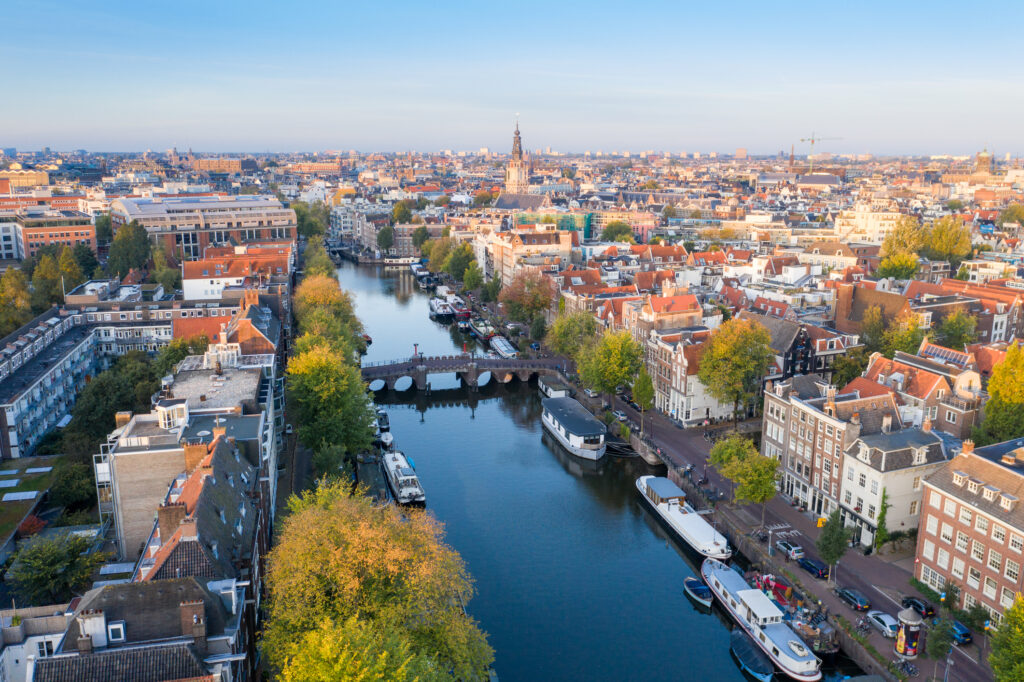 1.

Trip Costs In Amsterdam

Keep in mind that our cost estimates for travel to Amsterdam, are based on research and personal experience, so actual amounts may vary, particularly depending on the season. It is important to note that the currency used in the Netherlands is the Euro, with an exchange rate of around $1.07 USD at the time of writing. To make things easier, we will provide all of our estimated prices in US dollars. Below, you'll find a basic summary of the average daily expenses you can expect for three days in Amsterdam.

Related Post: Reasons why to visit in Amsterdam
2.

Cost of Flights to Amsterdam

Estimated Expense: $80-970 USD for a round-trip ticket

If you're traveling from overseas, reaching Amsterdam by airplane is the most common option. Flight prices can vary significantly, but there are strategies to find affordable fares. Major international flights typically land at Amsterdam Schiphol Airport. Here's a rough estimate of round-trip ticket prices from a few major airports:
New York to Amsterdam: $300-500
London to Amsterdam: £60-80
Sydney to Amsterdam: $950-1100
Vancouver to Amsterdam: $730-1250
To snag the best deals, keep an eye out for special offers, error fares, and optimal travel seasons. Timing can make a substantial difference in flight prices.
Related Post: Best Time To Visit Netherlands
3.

Price of Accommodation in Amsterdam

Estimated Expense: $20-200/day

Accommodation is a significant portion of your Amsterdam trip budget. While the city's central hostels can be pricey (averaging around $185 USD per night), there are budget-friendly options for savvy travelers. Consider staying in hostels, Airbnbs, or hotels on the outskirts of the city for more affordable rates.
3.1

Hostels in Amsterdam

Hostels are a budget traveler's best friend, and Amsterdam is no exception. You can find dorm beds for as low as $25 USD per night and private rooms ranging from $70-110 USD on average. Here are a few recommended hostels:
Hans Brinker Hostel Amsterdam: Affordable, located near canals, and includes free breakfast.
a&o Amsterdam Zuidoost: Stylish private rooms and affordable dorms in the Bullewijk.
WOW Amsterdam: Offers $9 USD meals at their on-site restaurant.
3.2

Hotels in Amsterdam

Hotels in Amsterdam tend to be the most expensive option. Prices average around $180-250 USD per night, reflecting the city's premium on hotel accommodations. However, you'll enjoy added security, services, and amenities like gyms and swimming pools.

Affordable hotel options:
Kimpton De Witt Amsterdam: Conveniently located near the central station, includes free use of hotel bicycles.
Albus Hotel Amsterdam City Center: Great for couples, close to tram stations.
Hotel Weber: Offers fresh bread delivered to your room each morning.
3.3

Houseboats in Amsterdam

An interesting and unique accommodation option in Amsterdam is staying on a houseboat. With around 2,500 houseboats on the city's canals, you can experience Amsterdam from the water. Prices for houseboats can vary, with luxury options upwards of $400 USD per night and standard choices averaging around $200 USD.

Recommended houseboat stays:
Modern Houseboat/Large Roof Terrace: A studio on the first floor of a boat with a terrace.
Houseboat – wake up with a great view!: Located in Amsterdam South, with a water view.
Cozy & comfortable suite on coaster close 2 center: Offers an awesome harbor view.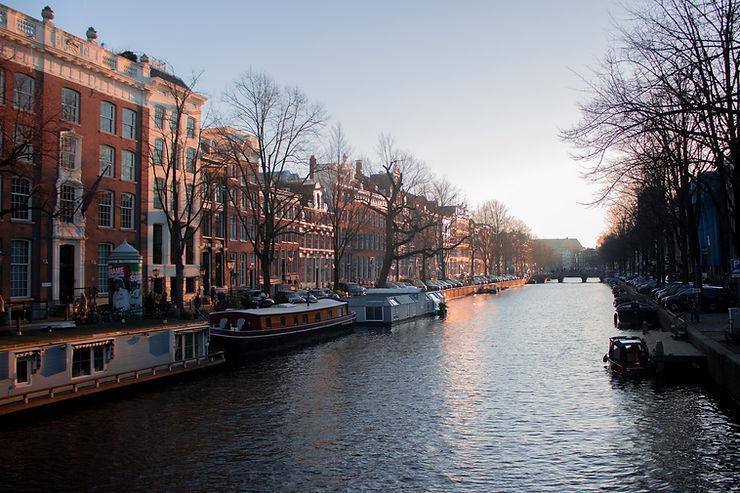 4.

Cost of Transport in Amsterdam

Estimated Expense: $9-25/day

Navigating Amsterdam is convenient and efficient thanks to its public transport system. Obtain an OV-chip card for access to trams, trains, buses, and the metro, all operated by GVB. The city has shifted to a cashless transport system, so you must purchase a card before use.
4.1

Train, Tram, and Metro Travel in Amsterdam:
Trains connect the airport to the city and other Dutch cities.
Trams are ideal for longer in-city journeys.
The metro serves outlying areas like Bijlmer and Amstelveen.
Consider options like day passes for public transport, starting at $9 USD, or multi-day passes for even greater savings.
4.2

Renting a Scooter or Bicycle in Amsterdam

Amsterdam is a bicycle-friendly city, and renting a bike is an excellent way to explore. There are reportedly more bicycles than permanent residents, making it easy to blend in with the locals. Rental rates are reasonable, with options like the FlickBike app offering rates of just over $2 USD per hour.

Tips for biking in Amsterdam:
Use apps like FlatTire for bike repairs.
Be aware of the recent scooter lane restrictions.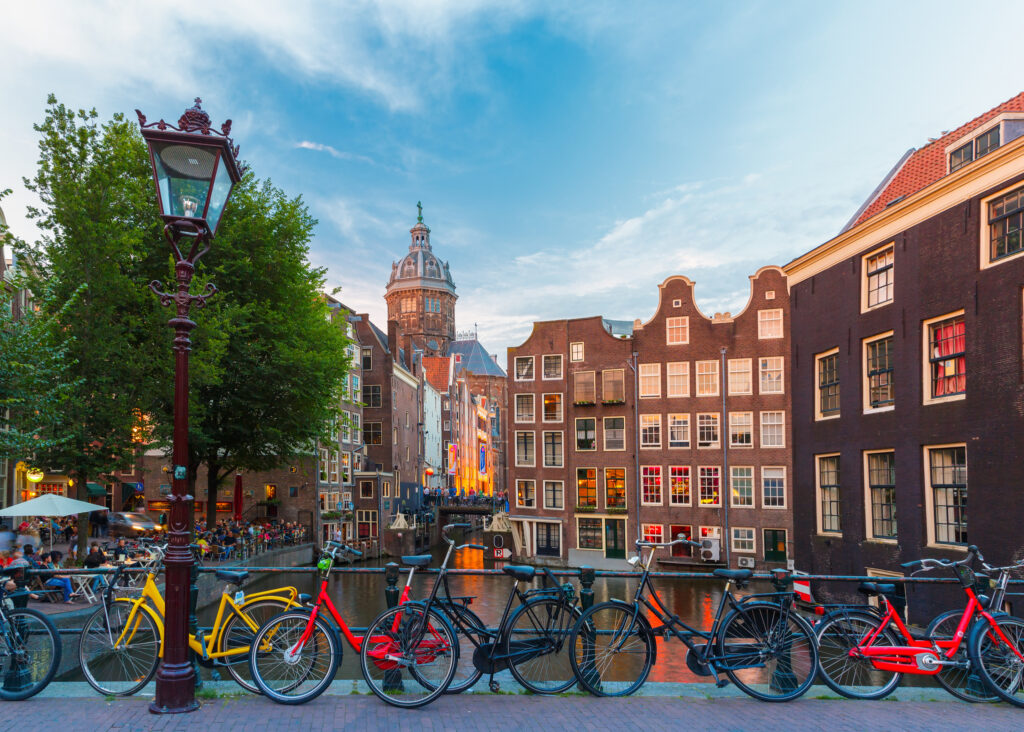 5.

The Cost of Food in Amsterdam

Estimated Expense: $20-200

Eating well in Amsterdam costs around $45-55 USD per day, with main meals ranging from $10-20 USD each. While dining at high-end restaurants can significantly increase your expenses, there are ways to enjoy affordable meals.

Where to Eat Cheaply in Amsterdam:
Explore local favorites like Skek, offering traditional Dutch fusion cuisine.
Try The Pool Restaurant in Amsterdam East for budget-friendly options.
Discover Warung Spang Makandra for Surinamese cuisine.
Additionally, consider Asian cuisine for cost-effective lunch and dinner choices.
6.

Cost of Attractions in Amsterdam

Estimated Expense: $10-150/day

Amsterdam offers a wealth of attractions, from art galleries and museums to unique experiences like cannabis cafes and the red-light district. While some attractions are free, most require an entry fee, typically ranging from $12-30 USD per person.

Tips to save on attractions:
Explore city passes that offer discounted or free entry to certain places.
Buy tickets in advance to secure early bird discounts.
Consider online ticket platforms like Tiqets.com for better prices.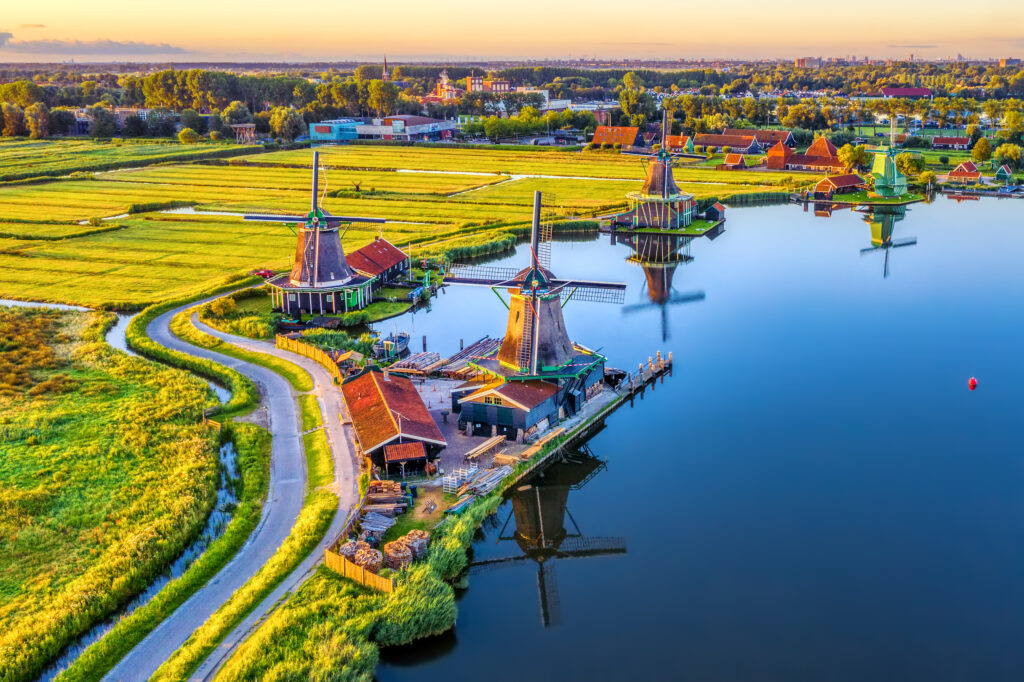 7.

Additional Costs of Travel in Amsterdam

Traveling always brings unexpected expenses. To be prepared, set aside a small buffer, roughly 10% of your total budget, for unforeseen costs such as missed transportation, medical needs, or forgotten items.
8.

Total Estimated Budget for a Trip to msterdam

Low-budget travelers: $60-100/day Mid-range travelers: $100-200/day High-end travelers: $200-500+/day

Your budget in Amsterdam will depend on your personal preferences and the type of experience you desire. A low-budget traveler can comfortably explore the city for around $60-100 per day, while mid-range travelers should allocate $100-200 per day. High-end travelers can enjoy Amsterdam's luxury offerings with a budget of $200-500 or more per day.

Remember, these estimates are rough guidelines, and costs can fluctuate based on your choices and travel period. Amsterdam is a city that caters to all budgets, so with proper planning, you can savor its charm without emptying your wallet. Enjoy your trip to this enchanting European gem!
1.

Conclusions

Amsterdam has a reputation for being expensive, but as we've discovered in this guide, there are plenty of ways to explore this fascinating city without emptying your wallet. With careful planning and a little local insight, you can enjoy the magic of Amsterdam while staying within your budget. So, is Amsterdam expensive? It can be, but with the right approach, it's entirely possible to experience this city's charms without breaking the bank. Get ready to embark on an affordable Amsterdam adventure full of culture, history, and unforgettable moments.