Utrecht is filled with a cool, young crowd that really knows how to have fun! As the hours get later, you'll notice the city's streets getting busier with revelers looking to enjoy a tasty drink or heading to an electrifying rave. So, no matter whether you're looking for relaxed vibes or for a wild night, Utrecht has it all! To help you discover Utrecht's bustling nightlife, we've put together this guide to the best bars and clubs in Utrecht.
For tasty drinks and laid-back chats:

The Malt Vault
The Malt Vault is a whiskey and cocktail bar located by a canal-side dock, in true Utrecht style. This hidden gem has a modern cave look that gives off speakeasy vibes. Plus, their whiskey display is as beautiful as the selection of drinks offered here is large. And of course, the drinks are delicious and the staff is super knowledgeable. If you're looking for an exclusive and refined night out in Utrecht, this is the place to be!
The Malt Vault | Oudegracht 54 A/D Werf, Binnenstad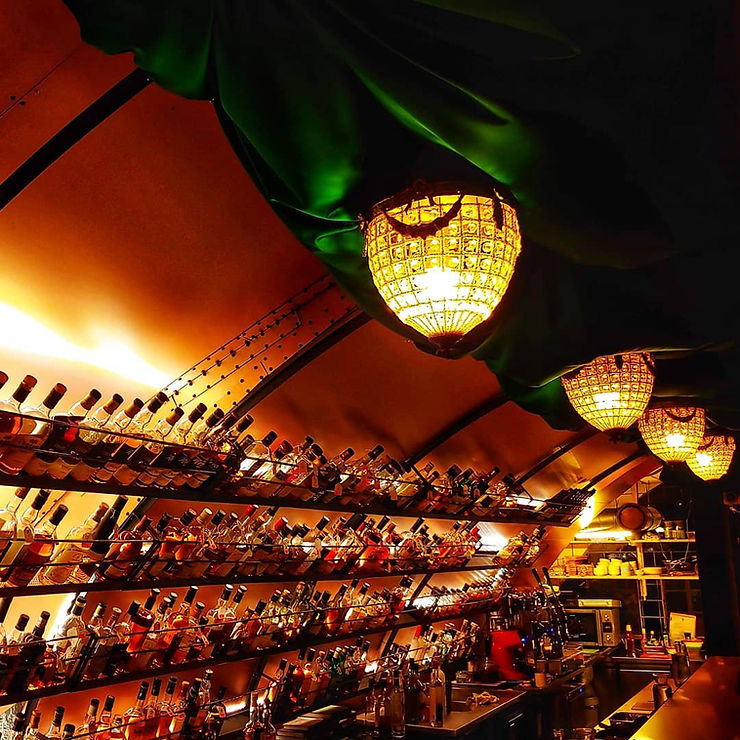 De Drie Dorstige Herten
'De Drie Dorstige Herten' translates to 'The Three Thirsty Deer' – and at this authentic Utrecht pub, you'll sure feel like one of them It's nearly impossible to resist drinking a few glasses from their large selection of both draft and bottled beers. Here, specialty beers from local and small craft breweries are the star of the show. But their wine and whiskey selections also won't disappoint you!
Belgian Beer Café Olivier
Located in a jaw-dropping old church, the setting at Olivier will exceed any expectations you'd have of a beer bar! Their extensive list of Belgian beers is no less impressive – it includes dozens of tasty options from both established and smaller breweries around the world. Their food menu has also been strategically designed to pair well with beer, and includes dishes such as mussels and burgers. One of the most incredible bars in Utrecht!
Belgian Beer Café Olivier | Achter Clarenburg 6A, Binnenstad
Café Kalff
Café Kalff's is a welcoming gay bar in Utrecht with the motto "go where you are celebrated". Here, the ivy-covered façade and the low lights inside create a super cozy atmosphere. It's almost like the place is inviting you to enjoy some tasty gin and tonics! Keep an eye out for the theme nights Café Kalff organizes throughout the year. These are the perfect occasions to mingle with locals and insert yourself into Utrecht's LGBTQ+ community.
Café Kalff | Oudegracht 47, Binnenstad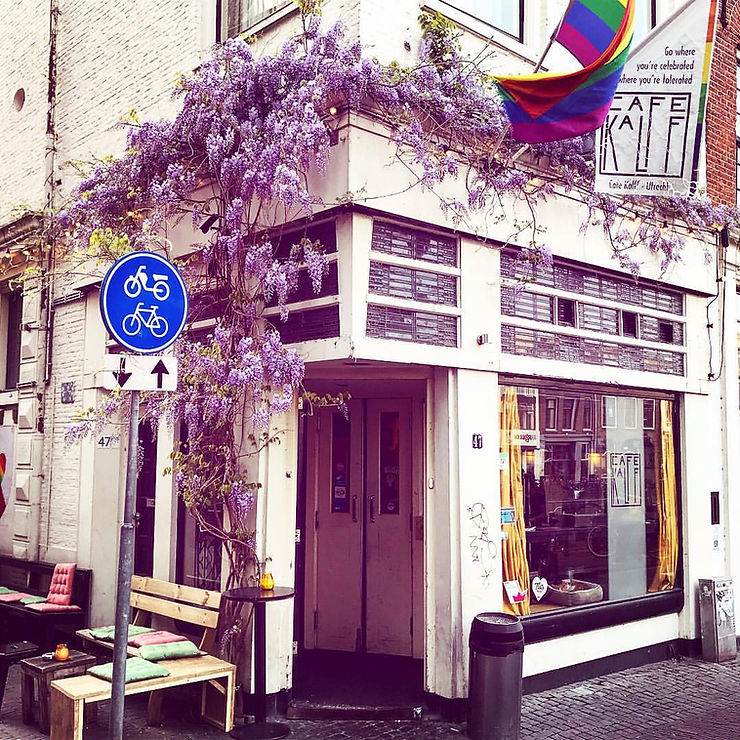 Wijnbar Kurk
Kurk is one of the best wine bars in Utrecht. The intimate, living room vibes here are ideal for sipping a luscious glass of the wine of your preference. If you need some guidance or are feeling indecisive, their friendly staff will give you specialist advice. Plus, they serve delicious snacks and a cold cuts board that is to die for!
Wijnbar Kurk | Lange Jansstraat 28, Binnenstad
For grooving to excellent music:
DE helling
De Helling is an electronic music venue just outside the center of Utrecht. The venue earns its reputation from the incredible concert and club nights it hosts, featuring artists from all over the world. What we love most about De Helling is that you can come here dozens of times and always find a different vibe. This means you may find yourself grooving to pop, R&B, experimental beats, techno, and more! Plus, the sound system here is really crisp. What's there not to love?
De Helling | Helling 7, Oost
basis
BASIS is more than just a staple in Utrecht's nightlife. It's where top DJs from around the world congregate to exhibit their work. In true Utrecht style, the club is located inside a canal-side cellar. The dark interior and minimalistic lightshow add to its enigmatic, cave-like vibe. Blasting techno, tech house, deep house, dubstep, and more – BASIS is the place for those looking for a memorable electronic rave without much fuss!
BASIS | Oudegracht aan de Werf 97, Binnenstad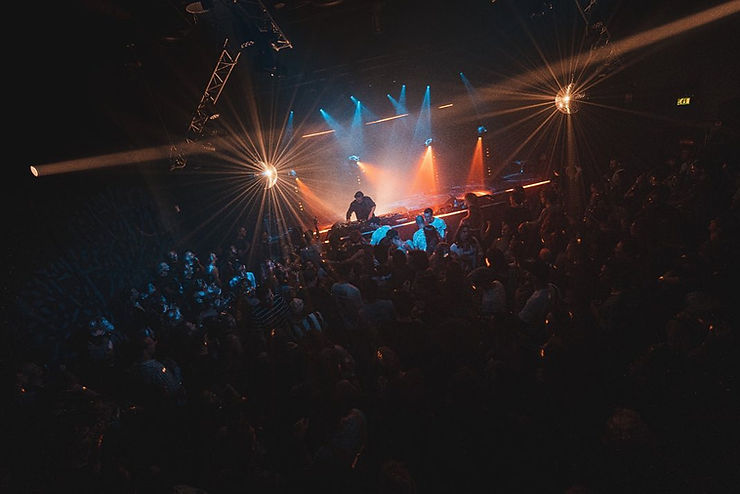 ekko
At EKKO, you can party to both excellent live music and neat DJ sets. From indie disco, to trance, to psychedelic rock – this place has something for everyone, depending on the night! Located in the center of Utrecht, the atmosphere at EKKO is intimate and inviting. You'll feel truly absorbed in music in no time!
EKKO | Bemuurde Weerd Westzijde 3, Noordwest
was.
Located in the laundry room of an old warehouse, WAS. is a real gem in Utrecht's electronic music scene. Its peculiar name translates to 'Wash' in English. This is why this venue describes itself as a place where visitors can 'dive into themselves, rinse off their stress and drift without resistance'. Here, the focus is on quality rather than quantity, since WAS. only opens a few times every month. That's how you know their house, disco, electro and techno beats are truly selected!
WAS. | Tractieweg 41, West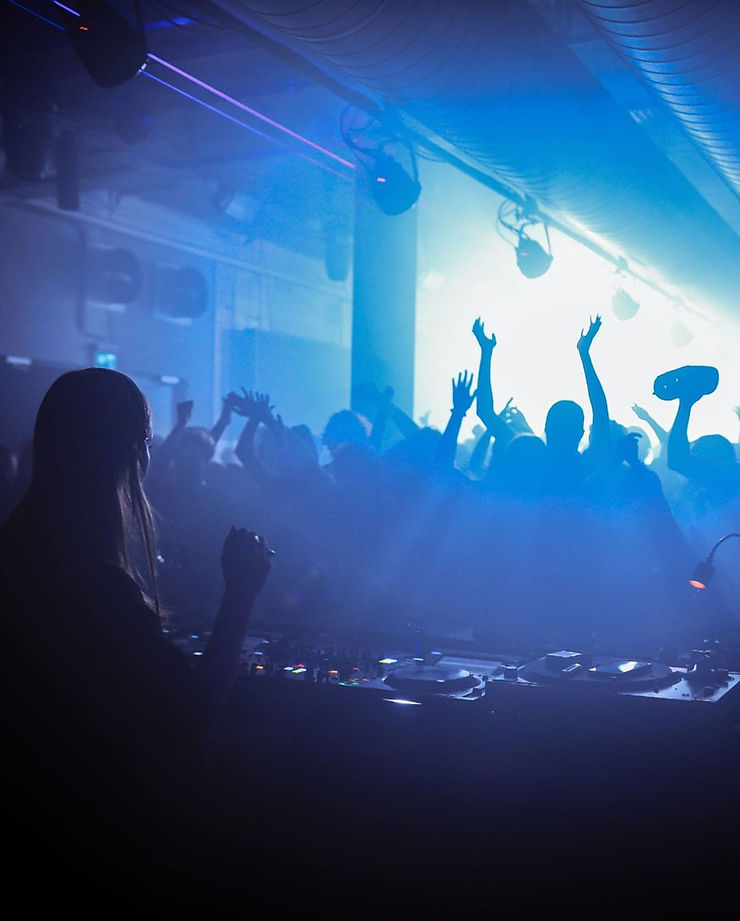 Club Poema
Poema hosts some of the hottest student nights in Utrecht. Here, the funky lights and affordable drinks will put you in the mood for a good boogie. The music caters to all tastes, ranging from techno to hip-hop, to the hits of the moment. Unlike other clubs in Utrecht where you have to be over 21-years-old to get in, the admission age here is 18+. So, Poema is perfect for the younger crowd!
Club Poema | Drieharingstraat 22, Binnenstad
So, what are you going for tonight – a bar, a club, or something in between?
We hope you've enjoyed our selection of the hottest nightlife gems in Utrecht. As you can see, the city's late-hour scene has something for all moods and tastes! No matter what your plans are, don't forget to tag us on your Instagram stories (@dernederlanden) – who knows we'll see you there… 😉🇳🇱