Not only is Nijmegen the oldest city in all of the Netherlands, it's also one of the country's best-hidden gems. Nijmegen has existed since the first century BC and it simply vibrates history! Did you know that Nijmegen originated from an ancient Roman settlement with an incredibly long name – Ulpia Noviomagus Batavorum? And that it's also an important site to modern history since it played a key role in World War II during Operation Market Garden.
Fascinating museums and beautiful architecture will allow you to uncover Nijmegen's rich culture. And if you get tired from so much learning, fear not – the city's cozy shops, convivial restaurants, and relaxing nature will take good care of you! That's to say that Nijmegen is a lovely destination for a weekend trip. So, check out our two-day travel guide to Nijmegen below!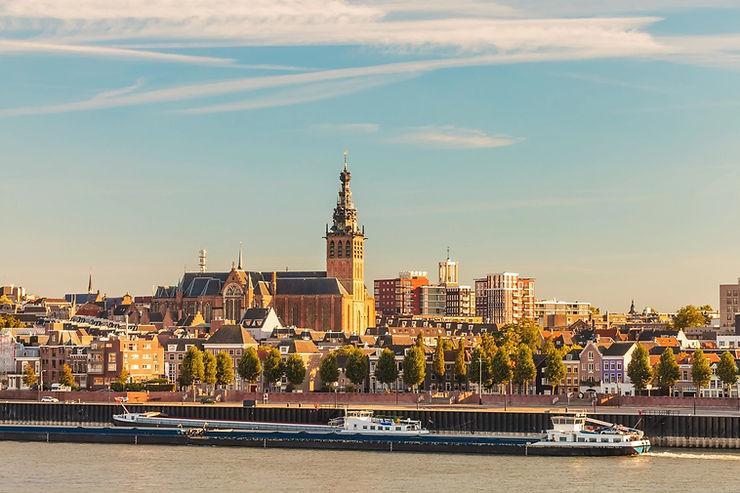 >

day 1 | morning

Explore the Grote Markt!

The Grote Markt is Nijmegen's main square and the heart of the city. This is a great place for shopping, dining, and people-watching! Among the many impressive constructions on the square is De Waagh – a medieval building built in 1358 as a place where people could weigh their goods before trading them at markets or fairs. Today, it houses a great restaurant and café that is worth a visit! On Saturdays between 08:00 and 14:30 there's an amazing organic farmers market that still takes place on the Grote Markt. We recommend visiting for fresh vegetables, delicious bread, and beautiful flowers.

Admire the beautiful Saint GStephen's Church (Stevenskerk)

Stevenskerk is probably Nijmegen's most famous landmark. And no wonder! This gorgeous Gothic church dates to the 7th century, and it's a reflection of Nijmegen's transformation through the centuries. Stevenskerk has been expanded and reconstructed many times, but it suffered its worst blow after being bombed during World War II. Luckily, it was rebuilt in 1969 and the people of Nijmegen recovered this living piece of heritage!
Visit the interior of the church to admire its impressive columns, beautiful chandeliers and the famous König Organ. From April to November, you can also climb the church's tower for an amazing view of Nijmegen.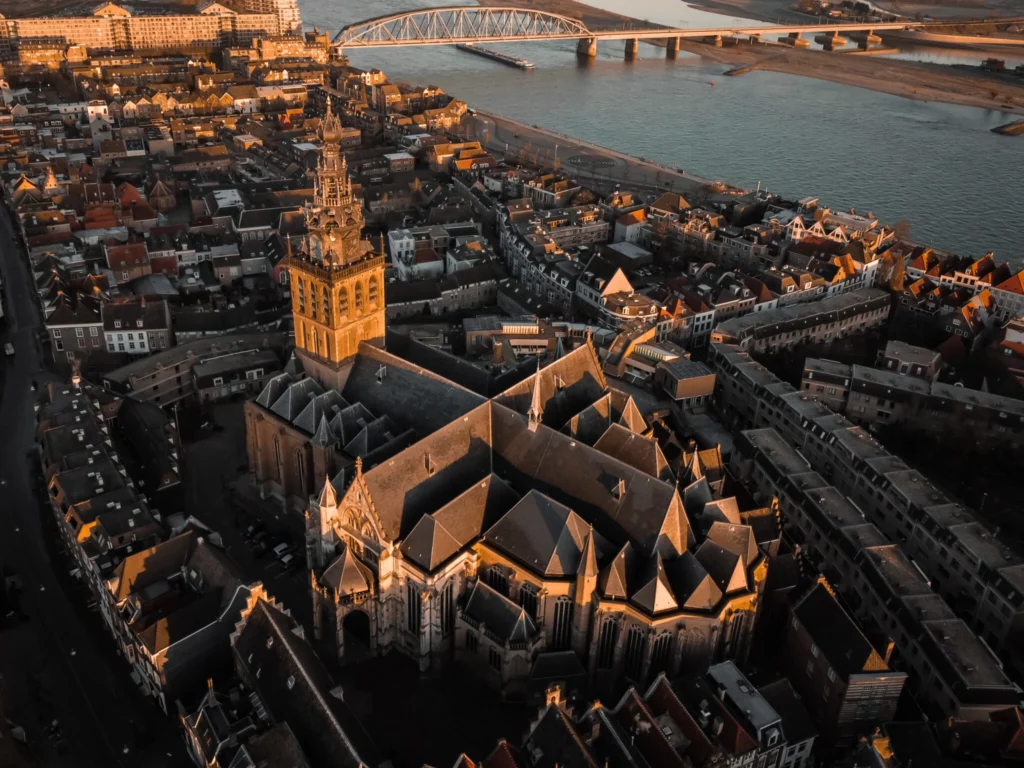 >

day 1 | afternoon

Visit the MuZIEum – and Experience a change of perspective!

The MuZIEum is a unique interactive museum in Nijmegen that allows visitors to experience what it's like to be fully or partially blind. Here, you'll learn first-hand about the challenges of navigating public transportation and streets as a person with low vision. Our favorite part? All tour guides at the MuZIEum are blind or partially sighted and they do a great job sharing about what it's like to live with impaired vision. An experience that will stay with you forever!
Shop 'til you drop at the Lange Hezelstraat

The Lange Hezelstraat is the oldest shopping street in the Netherlands! It's a bustling place filled with an array of family-owned shops, concept stores, and lots of food options. So, if you want to relax and mingle with locals, be sure to explore the Lange Hezelstraat while you're in Nijmegen.
>

day 1 | evening

Sip some fresh cocktails at Bar Atelier!

Bar Atelier is a lively all-day bar in the center of Nijmegen. Here you'll get to sip delicious cocktails and enjoy some juicy burgers and other bar snacks – vegetarian options included! They have a super gezellig terrace for warm days, and we can't think of a better way to unwind after so much walking around Nijmegen.
>

day 2 | morning

Enjoy great views at de Valkhof Park

Valkhof park is a lovely place to start your second day in Nijmegen – the park is located on a hill from where you can appreciate a beautiful view over River Waal. If you're in Nijmegen on a warm day, the Valkhof would be a great place to enjoy a delicious picnic breakfast! Here, you'll also get to see two of Nijmegen's historical landmarks. The Barbarossa Ruin is a remnant of a palace by Roman Emperor Frederik Barbarossa in the 12th century. The Sint-Nicolaas Chapel, built around 1000 AD, also stands here and is still very much intact!
Discover Nijmegen's nature And history at De Bastei museum

There's no better place than De Bastei museum to learn about Nijmegen's beautiful fauna, flora and extraordinary past. Why? The museum is located inside of the city's old bastion – a 16th-century military fortification built right by River Waal. Inside, you'll find out more about how Nijmegen grew from a small Roman village into what it is today. You'll also learn about the plants and animals that have lived by River Waal and even see some impressive fossils. Golden tip: don't leave without checking out the VR experience on the last floor – it'll show you how the Bastei's surroundings looked back in the 16th century!
>

day 2 | afternoon

walk along river Waal

alking along River Waal is a must while in Nijmegen! You'll get to enjoy a pretty and peaceful view and take lots of photos.
From here, you'll also be able to see the Waalbrug – a majestic arch bridge inaugurated by Queen Wilhemina in 1936.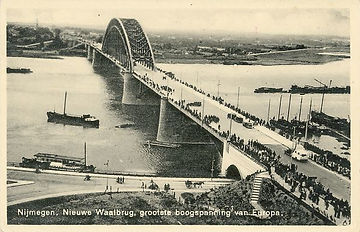 Explore nature at the De Ooijpolder

Nijmegen is surrounded by extensive green areas. De Ooijpolder is a nature reserve located within a short walk of the Nijmegen city center, and it's perfect for an afternoon stroll. Here, you'll find green pastures, cute wild cows, and sandy beaches along River Waal. During winter, this is a great place to breathe some fresh air and enjoy nature in peace and tranquility. And in the summer, you can even go for a swim at one of the reserve's beaches!
>

day 2 | evening

Dinner at Thibeau

Thibeau is a culinary hotspot in the center of Nijmegen with a refined but welcoming vibe. Their toothsome dishes are inspired by a variety of world cuisines and include options for meat-eaters, vegetarians, and vegans alike. A great option to end your two days in Nijmegen in grand style!
Where to Stay in Nijmegen: B&B Opoe Sientje
Opie Sientje is a charming bed and breakfast in Nijmegen that is located inside of a ship on River Waal!
They have seven unique rooms, each decorated according to a theme – 1001 Nights, On the Water, Skipper's Cabin, and more! Opoe Sientje also has a restaurant and café with both a cozy part inside of the boat and a lovely terrace for the summer. Have I mentioned that Opoe Sientje is also a small museum about shipping and the history of de Waal? We absolutely love this place!
—
We hope you've enjoyed our top tips for what to do in Nijmegen in 48 hours. If you're visiting any other spots in the country, don't forget to check out our best tips for what to do in Netherlands here! We wish you a lovely time in Nijmegen – geniet ervan and see you soon! 😉🇳🇱 P.S. We want to see all your Dutch adventures – tag us on social media (@dernederlanden) when you visit any of the places we recommend!