You'll fall in love with Groningen the moment you step foot in the city. And we mean that quite literally, since Groningen's train station is considered one of the most beautiful ones in the country! There's also something special about being in the Netherlands' northernmost city – maybe it's the proximity to the Wadden Sea, or maybe it's the feeling of uncovering a place that is still a hidden gem.
But despite most tourists in the Netherlands skipping a trip to Groningen, the city is bustling with life! Home to a student population of over 30,000 people, Groningen is a mélange of ancient architecture with a hip, young vibe. So, if you're looking for the perfect place for a weekend getaway in the Netherlands, look no further. We have put together a two-day guide with the best things to do in Groningen, so read on – but be warned, you'll want to pack your bags asap!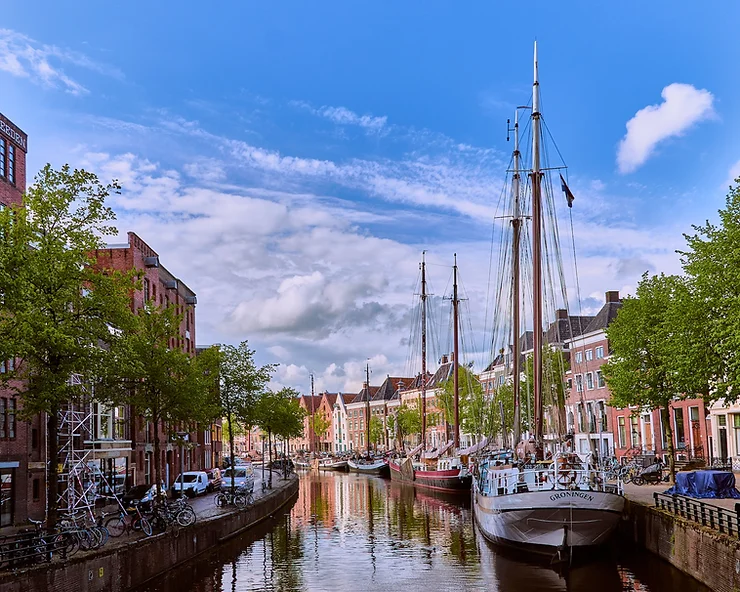 >

day 1 | morning

Get a feel for the city at the Grote Market

Like in most Dutch cities, the main market square is in the heart of Groningen. Here, a convivial atmosphere meets historical buildings, and you'll spot many locals enjoying their afternoon coffee (or after-work beer). The main attraction of Groningen's Grote Markt is the Martinitoren – a 97-meter-tall bell-tower from which you can enjoy the highest view of the city. Known as the d'Olle Grieze (the old gray one) by locals, this Romanesque structure has survived many tragedies throughout its 500 years of existence. Tickets to climb the Martinitoren 350 steps cost €6.00.
Just behind the tower, you'll find the Martinikerk – a magnificent 12th-century church where you can appreciate the iconic Schnitger organ and many colorful frescos.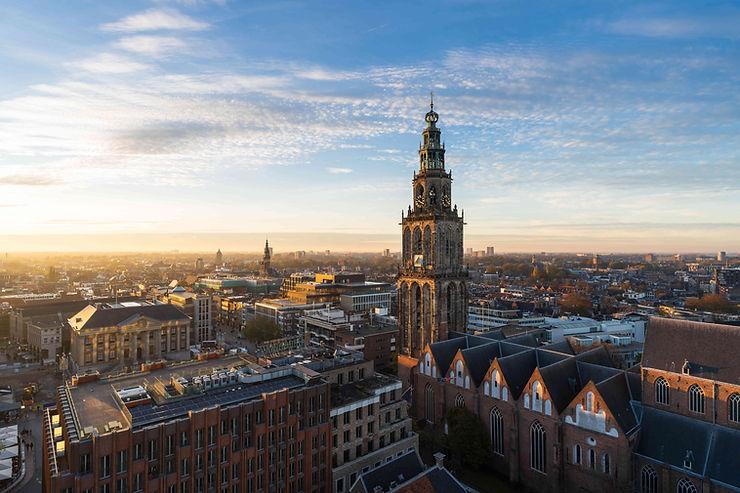 Visit the Groninger Forum and discover all sorts of attractions!

Within a 3-minute walk away from the Grote Markt, you'll find the Groninger Forum – a modern building opened in 2019 that houses several attractions. Here, you'll find a cinema, a library, a restaurant, a variety of exhibitions, and more! Our favorite part? The Forum's rooftop terrace from where you can enjoy a 45-meter-high view over the city. One of the best things to do in Groningen! Before you visit, be sure to check out the Forum's programme here.
>

day 1 | afternoon

Stroll along Hoge der A and Lage der A

Hoge der A and Lage der A are the two lively streets that run along River A. Here, you'll see the beautiful old warehouses that reveal Groningen's rich trade history. Over time, the trade activity in these streets has faded down and given place to bustling cafés and bars where you can enjoy a drink by the water! After your stroll, it's also a good idea to head to the Groninger Friethuys – a snack bar in a nearby street where you can enjoy a delicious eierbal. That is a typical deep-fried treat from Groningen that consists of a boiled egg covered by creamy dough and crispy breadcrumbs. Yummy!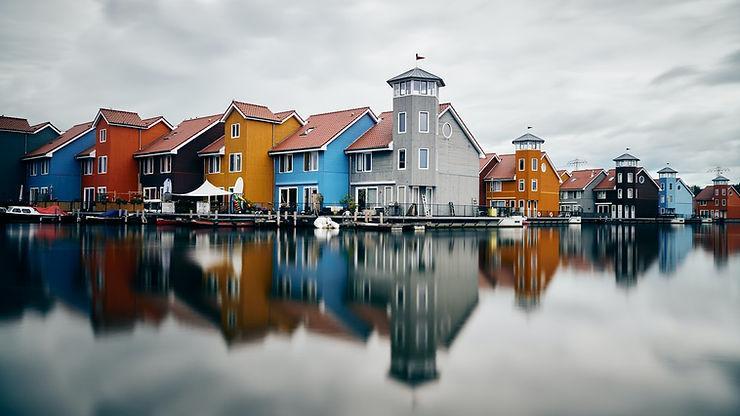 Explore Groningen's shopping scene
Are you the kind that always likes to discover a city's shopping culture during your travels? Then Groningen won't disappoint you! The Folkingestraat and the Herestraat are two parallel streets in the city center where you'll find a combo of big brands and cute local shops. Would you rather check out one of the city's local markets? On Tuesdays, Fridays, and Saturdays you can visit the Vismarkt, where you'll find – surprise, surprise – a variety of fresh fish, but also vegetables, fruit, and more!
>

day 1 | evening

Dining and dancing the night away at Het Pakhuis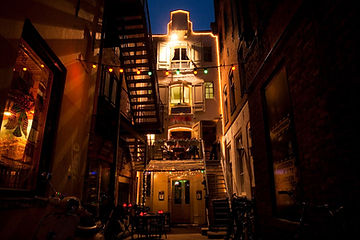 Located in an old warehouse and tucked away in an unassuming cobbled street, Het Pakhuis is a restaurant and bar where you'll find the best of both worlds. That is, delicious food and a great party! Their menu includes a variety of meat, fish, and vegetarian dishes that are both inexpensive and tasty. And on weekends from 10 pm, their DJs will entertain the crowd with their techno, funk, and hiphop beats.
>

day 2 | morning

Discover unique art at the Groninger Museum
Inside of the fun and colorful building that houses the Groninger Museum is a wide variety of modern and contemporary art exhibitions. Their permanent exhibition will introduce you to the history of Groningen and to De Ploeg, the art circle born in the city in the early 20th century. In relation to Groninger's changing exhibition, only one thing is certain: their complete unpredictability! To check out what's on in the museum while you're in the city, check out their program here.
See the beautiful gardens of the Prinsentuin

The Prinsentuin is the name given to the 17th-century gardens in the courtyard of the Prinsenhof, the old residence of the princes of Nassau. In this beautiful Renaissance garden, you'll see roses and herbs just like the ones the Dutch royalty used to stroll around. Entrance to the Prinsentuin is free during the day, so you have no excuses for not visiting!
>

day 2 | afternoon

Enjoy peace and nature at the Noorderplantsoen

The Noorderplantsoen is an awe-inspiring public park located to the north of Groningen's city center. Designed in an English garden style, this park originated from the old city walls and fortifications that were transformed into the Noorderplantsoen at the end of the 19th century. This is a lovely place for a picnic on a warm summer day, or to go for a walk and sip on some hot chocolate during winter!
>

day 2 | evening

Savor delicious dishes at Florentin

Florentin is a modern, Tel-Aviv-inspired restaurant located in Groningen's Oude Gasfabriek (old gas factory). They like to describe their menu as "balagan" – a Hebrew word that stands for mess, or confusion. But fear not, Florentin serves a mess of the best kind! Though vegetables are the main attraction of their dishes, you'll also find some meat and fish on their menu. Don't skip cocktails when at Florentin, they mix some seriously lekker stuff here!
Where to Stay in Groningen: hotel miss blanche
Staying at Hotel Miss Blanche during your two-day getaway to Groningen is a real treat! Not only is it centrally located right on the Hoge der A, one of Groningen's most photogenic areas, it's also beautiful on the inside. Their mission is to be a boutique hotel with contemporary luxury, and they do that very well. Each of Miss Blanche's 45 rooms is incredibly comfortable and decorated in a mixture of modern and antique styles. Highly recommended for a relaxing stay!
—
As you can see, you won't be short of amazing experiences to live and beautiful places to visit in Groningen! If you're visiting any other cities in the country, don't forget to check out our best tips for what to do in Netherlands here. Thanks for reading our Groningen travel guide and don't forget to tag us on social media (@dernederlanden) when you visit any of the places we recommend. Geniet ervan and see you soon! 😉🇳🇱