You're in for an adventure if you visit The Netherlands' oldest and largest national park, De Hoge Veluwe. Spanning over dense forests, rolling dunes, and open heathland in the central part of the country, this lush oasis beckons the explorer in all of us. Established in the 21st century, the park has a rich history and varied landscape, offering endless opportunities to connect with nature.
From spotting wildlife on quiet hiking trails to visiting the renowned Kröller-Müller Museum, there are activities for every interest. You can do as much or as little in this park as you like. So, Join us on a journey and get ready to be amazed and inspired by the natural wonders of De Hoge Veluwe National Park.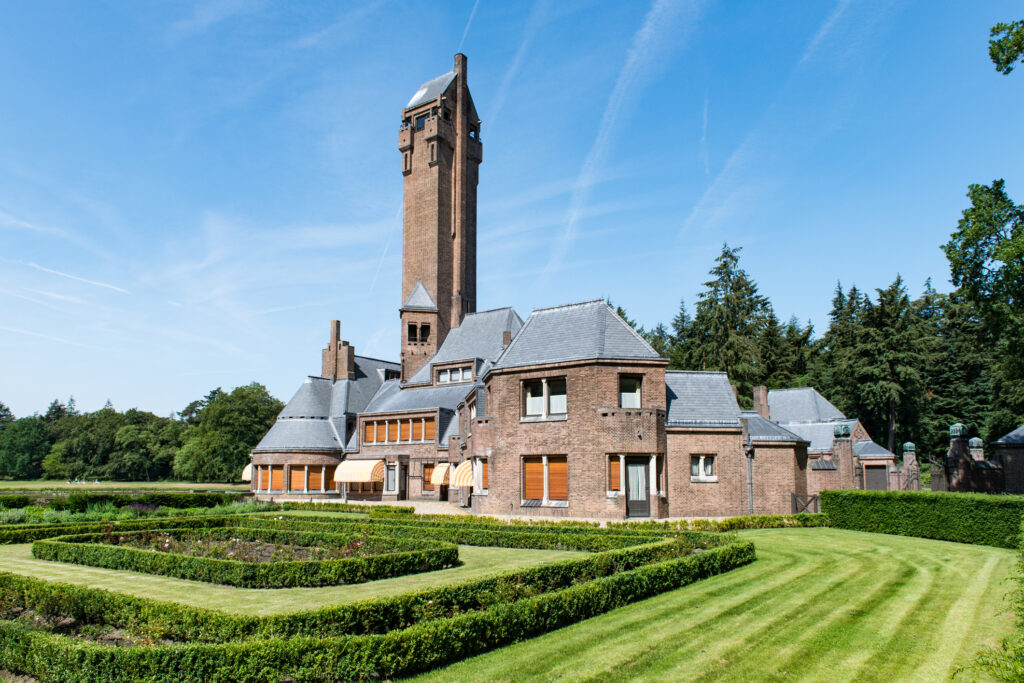 1.

About Nationaal Park Sallandse Heuvelrug
1.1

History

The Hoge Veluwe National Park has a long and rich history. Established in 1935, it was one of the first national parks in the Netherlands. The park was formerly a private estate owned by the wealthy Kröller-Müller family. They were art collectors and nature lovers who opened their estate to the public in 1909.

In 1935, the family donated over 14,000 hectares of land to the Dutch government to be established as a national park. The park opened shortly after that and has since become one of the top tourist destinations in the Netherlands, with over 1 million visitors annually.

The landscape of De Hoge Veluwe is diverse, with rolling dunes, pine forests, moorlands, and grasslands. It's home to many plants and animals, including wild boar, red deer, and bird species like woodpeckers, tits, and buzzards.
1.2

Geography

The park spans approximately 55 km2 (14,000 acres; 21 sq mi) in woodlands, heathlands, and drifting sands. The heart of the park features dense forests of pine and deciduous trees, providing a serene escape for visitors to wander through the tall trees and experience the calming climate of nature.
The Landscape
De Hoge Veluwe is on a pushed moraine landscape with small hills and valleys. The highest point is 109 meters. Two glacial lakes, Otterlo Lake and Hoenderloo Lake, add to the scenic beauty.
Heathlands cover about 1,000 hectares with heather, crowberry, and moss. The park is also home to drift sand landscapes, including one of Western Europe's largest inland drift sand areas at over 350 hectares. The shifting pale yellow sands are a stunning sight.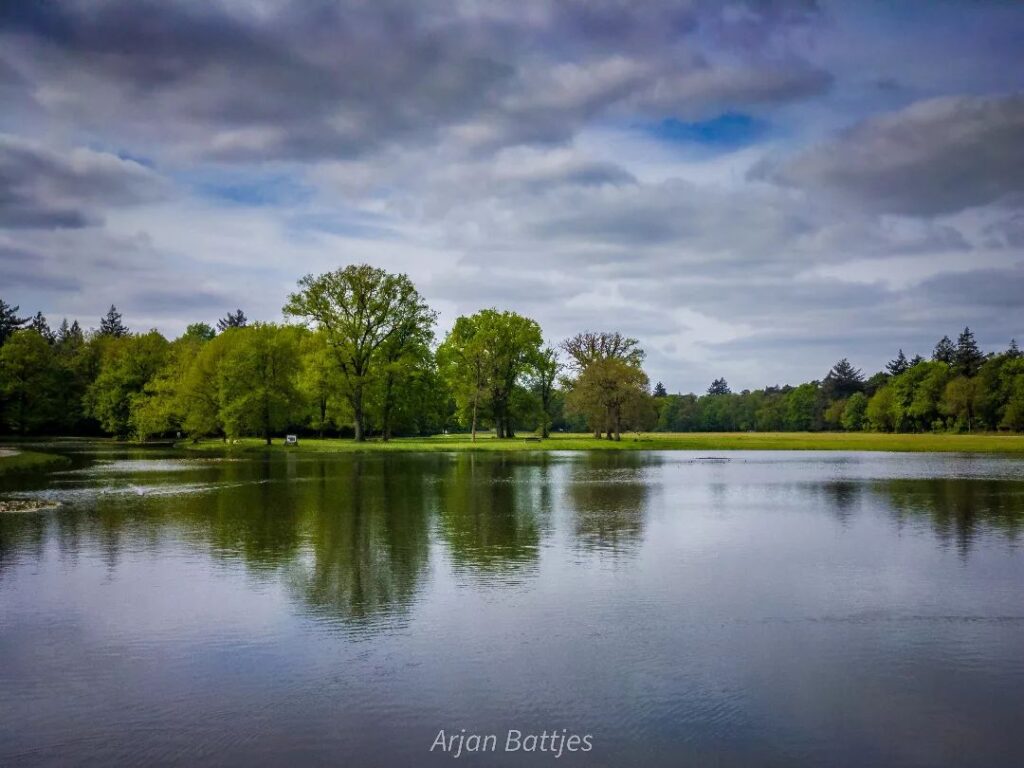 Camping
The park offers year-round camping at one of its four campsites with over 1,000 spots for tents, campers, and motorhomes. The sites have picnic tables, fire pits, restrooms, showers, and a swimming pool. The campsites are within walking or biking distance of the major attractions. Those wanting to camp even closer to nature can stay at one of the more basic tent-only sites. There are also private campgrounds just outside the park.
So whether you want to explore the woodlands by bike, view wildlife in their natural habitat, photograph the drift sands at sunrise, or cozy up in a cabin under starry skies, De Hoge Veluwe Nationaal Park offers a perfect escape into nature.
1.3

Location:

On the map, Het Hoge Veluwe National Park is nestled in the province of Gelderland, southeast to the Veluwezoom National Park. The park's address is Houtkampweg 9, 6731 AV Otterlo, Netherlands, making it easily accessible by various means of transportation. If you plan to reach the park by car, ample parking facilities are available on-site. For those opting for public transportation, regular bus services operate from nearby cities, ensuring convenient access to the park.
2.

Top 10 Things to Do Near Het Nationale Park De Hoge Veluwe

Once you've explored the history and geography of Het Nationale Park De Hoge Veluwe, it's time for some adventure! This park is filled with exciting activities for nature lovers of all ages. Here are the top 6 things you absolutely must do during your visit:
2.1

Schaarsbergen

Schaarsbergen, a charming village within the enchanting landscape of De Hoge Veluwe National Park, offers a wealth of attractions and activities for visitors to immerse themselves in nature's splendor. One of the highlights is the Kröller-Müller Museum, a world-renowned art destination boasting an impressive collection of artworks, including masterpieces by Vincent van Gogh and other prominent artists. Art enthusiasts and culture seekers can explore the museum's diverse exhibits while surrounded by the park's serene beauty.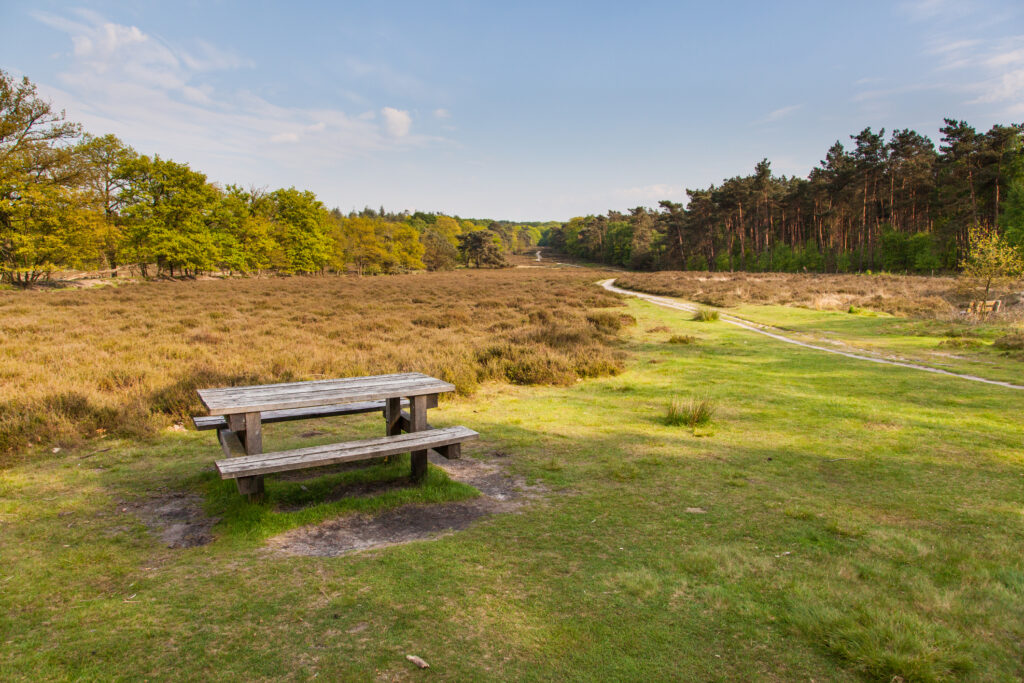 2.2

Visit the Kröller-Müller Museum

The Kröller-Müller Museum, nestled within the stunning Veluwe and Heuvelrug National Parks, offers a captivating attraction for art enthusiasts and history lovers alike. The museum's remarkable collection showcases the passionate art patronage of Helene Kröller-Müller, whose vision and dedication led to the acquisition of an impressive array of masterpieces. Among the renowned artists featured in the collection is the iconic post-impressionist painter Paul Cézanne. Visitors have the privilege of immersing themselves in Cézanne's revolutionary works, witnessing his groundbreaking approach to composition and color, which laid the groundwork for the Cubist movement.

Cubism, an art style that emerged in the early 20th century, sought to depict objects from multiple viewpoints, challenging traditional perspectives simultaneously. At the Kröller-Müller Museum, admirers of art history can explore the influences of Cézanne's innovative techniques on the development of Cubism. One of the museum's highlights is its impressive collection of sculptures set amidst the park's serene landscape. As visitors wander through the outdoor sculpture garden, they are treated to an extraordinary display of artistic masterpieces crafted by renowned sculptors. From iconic works like "The Thinker" by Auguste Rodin to the intriguing creations of Barbara Hepworth and Henry Moore, the garden is a mesmerizing journey through sculptural art.

Timings Of Kröller-Müller Museum
Tuesday to Sunday and public holidays: 10.00 – 17.00
Extra Mondays (20 February, 27 February, from 1 May to 28 August,16 October, and 23 October 2023): 12.00 – 17.00
Entry Fee:
Ages 0 to 12: Free admission.
Ages 19 and above: €12.50 for entry.
Museumkaart holders: Free .
CJP Pass holders: €6.25 for access.
CJP Pass holders: Free.
Note: Before visiting, it is always advisable to visit the official website of Kröller-Müller Museum for getting real-time information and the best experience of your visit.
Related Post: De Biesbosch Museum Island
2.3

Arnhem

Arnhem, with its vibrant culture, historic sites, and natural surroundings, serves as an excellent base for travelers looking to explore the wonders of Hoge Veluwe National Park. Whether enjoying the city's charming atmosphere or venturing into the pristine wilderness of the nearby parks, Arnhem offers an unforgettable experience.
2.4

Het Loo Palace Apeldoom

A visit to Apeldoorn's Het Loo Palace (just 15 km away) offers a glimpse into the country's royal history. The majestic palace, surrounded by meticulously manicured gardens, presents an opulent setting that captivates visitors. Exploring the elegant rooms and galleries within the palace provides a sense of stepping back in time to witness the lavish lifestyle of Dutch royalty.

Combining these two attractions, visitors can embrace both the natural wonders of Hoge Veluwe and the regal charm of Het Loo Palace, creating an unforgettable journey that celebrates the cultural and natural heritage of the Netherlands.
2.5

Visit the Museonder

This small museum is excellent for kids and families. It features interactive exhibits on the park's nature, wildlife, and history. After visiting, kids can burn off some energy in the large playground area.
2.6

Wageningen

Wageningen, a charming town located near De Hoge Veluwe National Park, offers an array of attractions and activities that complement the park's natural beauty. One of the highlights is the Arboretum Belmonte. In this delightful botanical garden, visitors can immerse themselves in a vast collection of trees and plants worldwide. The serene ambiance and scenic walking paths make it an ideal spot for strolls and quiet contemplation.

Moreover, Wageningen is home to the impressive Het Depot museum, dedicated to contemporary figurative sculpture. Art enthusiasts can marvel at the intricate sculptures displayed indoors and in the museum's enchanting sculpture garden, which adds a touch of artistic charm to the town.
2.7

Go on a Wildlife Safari

Take a guided wildlife safari tour to spot native animals like deer, wild boars, and birds in their natural habitat. The park is home to many endangered species, so keep your eyes peeled!
2.8

Rent a White Bikes

The best way to explore the expansive park is by bike. Take advantage of the free white bikes along the many bycycling paths. Just remember to return your bike before the park closes!
2.9

Go Hiking

With many hiking trails, the park offers routes for all skill levels—Trek through dense forests and heathlands for a perfect day enjoying nature.
2.10

Go Horseback Riding

What better way to experience the park's natural beauty than on horseback? Ride along wooded trails and open heathlands with an experienced guide. Private and group tours are available for riders of all levels. The park offers so much to experience; you'll want to stay exploring all it has to offer for days. Camping overnight within the grounds can extend your adventure, allowing for a perfect balance of activity and relaxation.
3.

Camping in De Hoge Veluwe National Park

Camping in De Hoge Veluwe National Park is allowed in designated areas, immersing yourself fully in nature. The park offers three campsites with varying amenities to suit different needs.
3.1

De Kamps

This is the largest campsite located in the middle of the park. It features:
Over 200 campsites for tents, campers, and caravans
Modern sanitary facilities with showers and toilets
Playgrounds, sports fields, and picnic areas
Bicycles rentals to explore the park
A small supermarket and restaurant within walking distance
De Kamps is open from April to October, and reservations are recommended, especially in summer.
3.2

De Waterplas

Situated in a forest clearing near a small lake, this campsite has only 25 secluded grounds with basic facilities. It's perfect to rough it in a scenic, natural setting. De Waterplas is only open from May to September.
3.3

Otterlo

Camping Otterlo offers over 140 campsites with amenities like a swimming pool, playground, and sports facilities outside the park. While not within the park, it's only a short bike ride to the entrance. Otterlo is open year-round, so it's ideal if you want to camp in the shoulder months.

So whether you want a social campsite in the heart of the park or a quieter spot on the outskirts, De Hoge Veluwe National Park has options for a perfect natural getaway. Pack your tent or campervan, grab your bike, and get ready to explore 5,400 hectares of woodlands, heathlands, and shifting sands. Just don't forget to book ahead—with attractions like the Kröller-Müller Museum and opportunities for wildlife spotting, this park is famous for good reason. Camping in such a scenic landscape is an experience you won't soon forget.

Related Post To Read: De Weerribben Wieden National Park
4.

Opening Hours & Entry Fee

De Hoge Veluwe National Park in the Netherlands offers a captivating natural experience that attracts visitors worldwide. To help you plan your visit, here are the opening hours, entry fee, and exact location details you need to know:
4.1

Opening Hours:

The park is open throughout the year, allowing you to explore its wonders every season. However, here are the specific timings for every month:
January to March: Opening hours are from 09:30 AM to 05:30 PM.
April: Opening hours extend to 09:30 AM to 07:30 PM.
May: Enjoy longer hours from 09:30 AM to 08:30 PM.
June and July: The park stays open from 09:30 AM to 09:30 PM.
August: Open from 09:30 AM to 08:30 PM.
September: Hours are from 09:30 AM to 07:30 PM.
October: Open from 09:30 AM to 06:30 PM.
November and December: The park closes from 09:30 AM to 05:30 PM.
4.2

Entry Fee
To gain access to the park, an entry fee is required. However, the cost contributes to the conservation and maintenance of this natural gem.
General admission for adults is €12.50 per person, while children aged 6 to 12 can enter for €6.25.
Younger children up to the age of 6 enjoy free entry.
Special rates are available for students, senior citizens, and groups, so inquire about these options.
5.

Conclusions

And there you have it, a perfect natural escape in the Netherlands. De Hoge Veluwe National Park has something for everyone with its scenic beauty, recreational activities, and rich history. Now that you know what the park offers, what are you waiting for? Grab your bike, hiking boots, or camping gear and discover the Veluwe. Breathe in the fresh air, get lost in the dense woodlands, and spot wildlife in their natural habitat. A visit to De Hoge Veluwe National Park will create memories that will last long after you return home.