Located in the east part of the Netherlands and home to an array of flora and fauna, the National Park Veluwezoom offers a captivating blend of wildlife, scenic hiking trails, and historical landmarks waiting to be explored. Whether seeking comfort in nature's embrace, desiring an incredible adventure, or simply eager to discover the rich ecological heritage of the region, National Park Veluwezoom promises an unforgettable experience for all. Join us as we embark on a virtual journey through this natural wonderland, revealing its wonders that make it an extraordinary destination.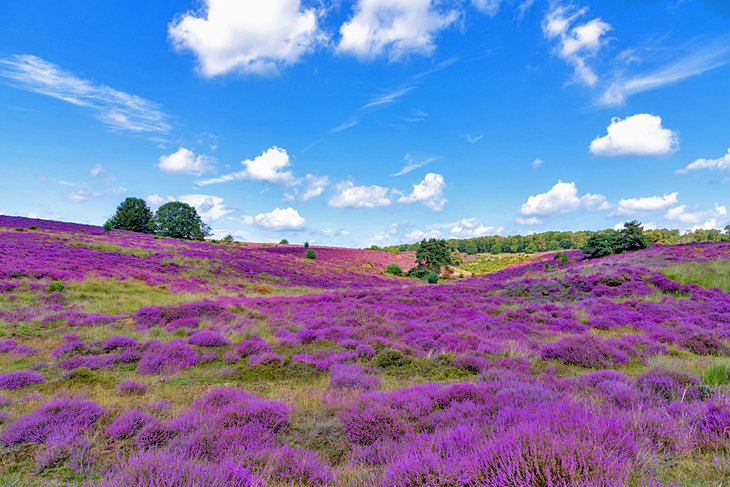 1.

About Veluwezoom Nationaal Park

The Veluwezoom National Park is one of the Netherlands' most popular and extensive national park, with over 50 square kilometers. It is located in the province of Gelderland, and the park is only an hour east of Amsterdam. Its proximity to major cities makes it an ideal escape into nature. You'll find dense forests, rolling dunes, and heathlands dotted with pine trees. There are over 350 kilometres of hiking and biking trails to explore diverse landscapes.

The park has a long history and was established in 1923 to protect the area's natural scenery and plant life. After large-scale deforestation in the 19th century, the Dutch government set out to reforest two-thirds of the park. Today, over half the park is forested.

You might spot wildlife like deer, foxes, and rare birds. The park is home to many endangered species, so tread lightly and stick to marked trails to avoid disturbing animals in their natural habitat.

If you want to make it an overnight trip, there are playgrounds, picnic areas, and campsites. Or visit one of the park's scenic estates like Doorwerth Castle, a medieval castle on the bank of the Rhine River. The visitor's center offers educational exhibits about the local flora and fauna and ranger-guided tours.

Whether you come for a quick hike, a family picnic, or an extended cycling holiday, the Veluwezoom National Park has something to satisfy everyone. Enjoy this peaceful patch of nature on the doorstep of the bustling Randstad. Lose yourself in the serenity of the forests and dunes. A breath of fresh air awaits!
2.

Best Time To Visit Veluwezoom Park

The Veluwezoom National Park is a gorgeous place to visit any time of year, but the spring and fall shoulder seasons are particularly stunning. Around April and May, millions of daffodils bloom across the park, carpeting the forest floor in a sea of yellow. The autumn foliage in October is equally breathtaking, with vibrant reds and oranges throughout the woodlands.

If you want to avoid the biggest crowds, aim for April through June or September through October. The summer months of July and August see the most tourists, especially on weekends. While the weather will be pleasant, the trails and attractions can feel crowded. The temperatures are also typically warmer, which may be less comfortable for hiking and cycling.

Related Post: De Biesbosch national Park

In short, there's no perfect time to experience the beauty of Veluwezoom National Park. But by avoiding the biggest crowds in the peak summer season and venturing out during the golden hours of dawn and dusk, your chance of an unforgettable visit full of natural wonder is highest. Whenever you go, slow down and immerse yourself in the peaceful surroundings.
3.

Attractions And Activities

Nationaal Park Veluwezoom has some must-see attractions you will want to take advantage of.
3.1

De Posbank

One of the most popular spots in the park is De Posbank, a hilly area covered in heather and pine forests. There are many hiking trails with stunning views from the top. The purple heather blooms in late summer, making it an incredibly picturesque time to visit.
3.2

Radio Kootwijk

This former radio transmitting station now serves as a museum and restaurant. The iconic antenna towers stand tall against the sky, reliving the area's history. Climb the buildings to see the park up high, then enjoy lunch or coffee at the on-site eatery. It's a unique glimpse into how technology shaped the region in the early 20th century.
3.3

Paleis Het loo

Just outside the park, Paleis Het Loo is the most significant historical museum in the Netherlands. The palace was once the summer residence of the Dutch Royal Family, filled with lavish furnishings, art, and gardens. Take a guided tour to learn all about its storied history and the monarchs who lived there. The immaculate grounds also feature geometric flower beds, hedge mazes, and a deer park.
3.4

Ouwehands Dierenpark

For a fun family outing, visit Ouwehands Dierenpark, a zoo and wildlife park home to over 300 species, including giant tortoises, penguins, lions, and gorillas. They have special programs for kids, playgrounds, and picnic areas. The zoo works to conserve endangered species through breeding programs and habitat protection. Meet creatures from all corners of the globe at one of the top zoos in the Netherlands.

With stunning natural scenery, cultural attractions, and opportunities for outdoor recreation, Nationaal Park Veluwezoom has something for everyone. Spend a long weekend exploring all it has to offer.
3.5

Go Cycling

With over 350 kilometresof cycling paths, Veluwezoom is a cycling paradise—rent bikes to ride through forests, dunes, and canals at your own pace. Stop for refreshments at one of the picturesque villages along the way. Cycling is one of the best ways to experience the scenic Veluwezoom area.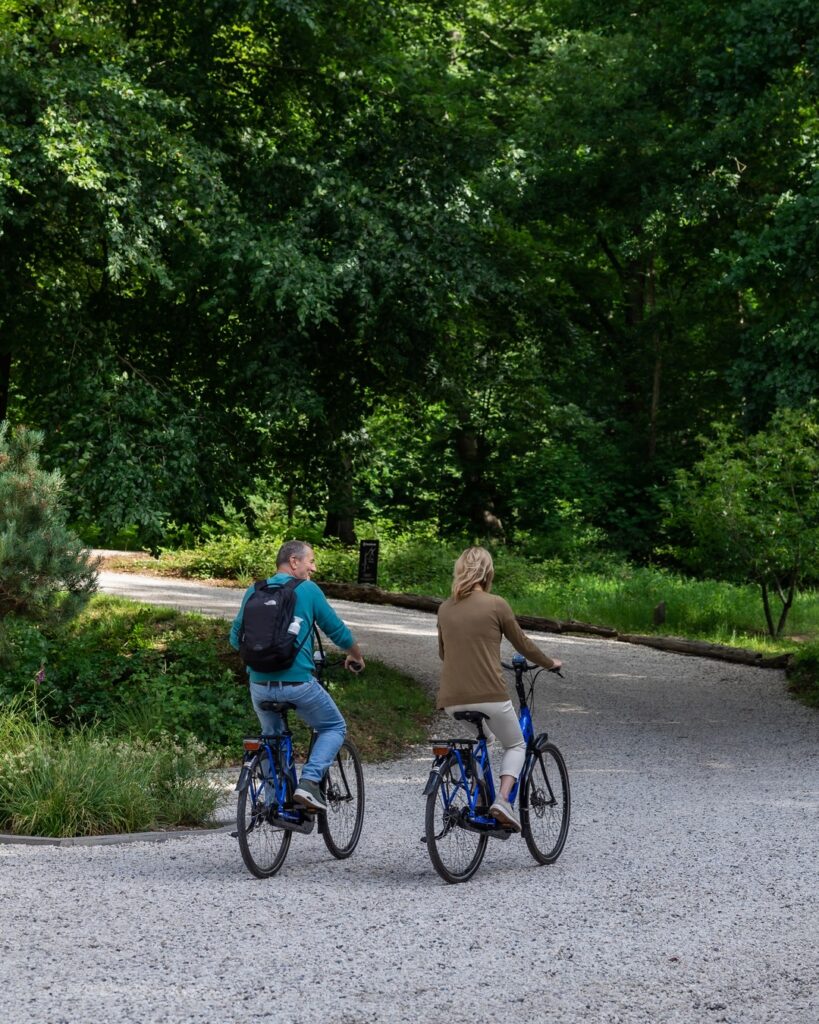 3.6

Shop in Picturesque Town

The charming towns of Rheden, Dieren, and Brummen offer shopping, dining, and people-watching. Stroll cobblestone streets, visit specialty shops, enjoy a meal at an outdoor cafe, or soak in the atmosphere. Each town's unique character and architecture provide a glimpse into traditional Dutch life.
4.

Camping At National Park de Veluwezoom

Camping under the stars in Nationaal Park Veluwezoom is an experience to be noticed. To facilitate your extraordinary journey, we present a selection of the our favorite campsites within or close to the park, each offering great amenities and opportunities to immerse yourself in the beauty of this pristine wilderness.
Campsite De Jutberg: Located near the southwestern edge of Veluwezoom, this campsite offers a serene setting amidst lush forests and heathlands. Facilities include spacious pitches for tents and caravans, clean sanitary blocks, a playground for kids, and bike rentals for exploring the surrounding nature!
Campsite De Wije Werelt: Situated close to the park's eastern boundary, De Wije Werelt provides a mix of nature and comfort. It features well-equipped camping areas, luxury glamping tents, and modern facilities like Wi-Fi, a restaurant, and an indoor swimming pool.
Campsite Beekhuizen: Nestled amidst the Veluwezoom's stunning landscape, Beekhuizen offers picturesque camping spots by the water. The campsite emphasizes eco-friendly practices and provides various outdoor activities such as hiking and cycling. Facilities include clean showers, a cozy restaurant, and access to a beautiful swimming pond.

Campsite De Waterjuffer

: Located near Dieren, just a short distance from Veluwezoom, De Waterjuffer is a tranquil campsite surrounded by greenery. It offers basic facilities for camping, such as spacious pitches and clean amenities. The peaceful atmosphere is perfect for nature lovers seeking a quiet retreat.
Campsite Het Lorkenbos: Positioned on the outskirts of Veluwezoom, Het Lorkenbos offers a blend of natural beauty and modern conveniences. The campsite features well-maintained pitches, clean facilities, and an on-site restaurant serving delicious local cuisine. It's an ideal base for exploring the park's diverse landscapes.
5.

Entrance Fee And Opening Hours

To visit Nationaal Park Veluwezoom, you must know about the entrance fee and opening hours. The park is open 24 hours a day year-round, but the visitor centers have more limited hours. Here are the details of the entrance fee:
Adults (13 years and above): €12.30 per person
Children (6-13 years): €6.15 per person
Children (under 6 years): Free
Please note that the entrance fee contributes directly to the conservation efforts and maintenance of the park. And it is always advised to visit the official website and contact them personally for more information.