Haarlem is probably the most well-known of all cities neighboring Amsterdam. And no wonder that's the case! Despite its small size, the city has everything a traveler could wish for – a thriving cultural scene, quintessential Dutch architecture, lovely canals, and great restaurants. In Haarlem, all of that comes with the bonus of a more laid-back and less touristy vibe than in the Dutch capital. Here, you can get a real feel for what a traditional Dutch city is like without having to travel far from Amsterdam.
You can easily and cheaply travel from Amsterdam to Haarlem via train – it takes only 15 minutes and round-trip tickets cost just 12 euros. So why not spend a weekend in Haarlem while you're in the Netherlands? We promise you won't be short of things to do! To help you plan your trip to Haarlem, we've put together the perfect two-day itinerary. Check it out below!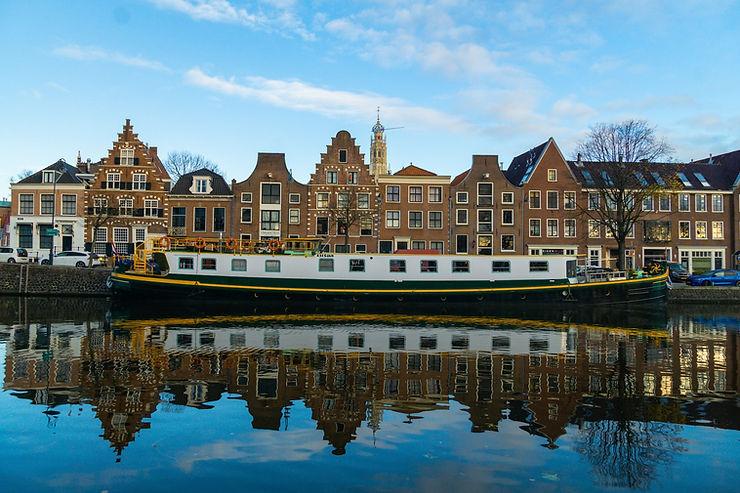 >

Day 1 : Morning

Explore the Grote Markt – Haarlem's main city square!

Combining historic buildings, lively bars and restaurants, and a bustling city market, the Grote Markt is the place to be in Haarlem! Here you'll find one of the city's main attractions, the St. Bavokerk (or Grote Kerk). Built between 1370 and 1520, this magnificent construction was originally designed to be a Catholic Church. After the Reformation, it was overtaken by the Protestant Church – which still meets in the site until this day. The St. Bavokerk is also home to the Müller Organ – a jaw-dropping, 30-meter-tall instrument that was once played by Mozart at the young age of 10 years old!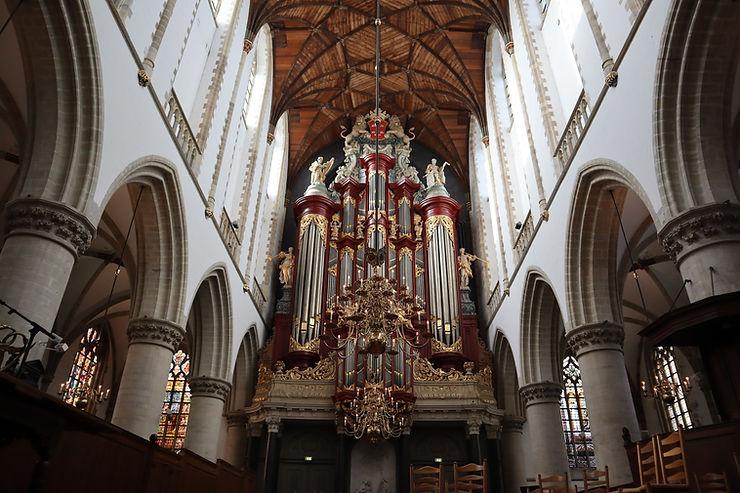 In the Grote Markt, you'll also find Haarlem's impressive medieval City Hall (Stadshuis) and weekly markets happening on Saturdays and Mondays.
Visit the Teylers Museum – The first-ever museum in the Netherlands!

The Teylers Museum is the first and oldest museum in the Netherlands!
Founded in 1778, this art and science museum houses a splendid collection of paintings, books, instruments, fossils, minerals, and more! Its founder, Pieter Teylers, believed in creating a public knowledge temple that embodied the spirit of the Enlightenment. The main attraction here is the Oval Room – the museum's first built part, which was originally designed as a curiosity cabinet to showcase technological innovations.
afternoon
Reflect on the past at the Corrie Ten Boom House
At the Corrie Ten Boom House, you'll learn about the history of a devoted Christian family that saved the lives of around 800 Jewish people during the Holocaust. Here, you'll visit the watch shop and house where the Ten Boom provided refuge for many Jews hiding from the Nazis, and helped others escape to different 'safe houses' and foreign countries. Sadly, the family was arrested and sent to concentration camps in February 1944 – and Corrie Ten Boom was the only one to survive.
To visit the museum, book a guided tour here.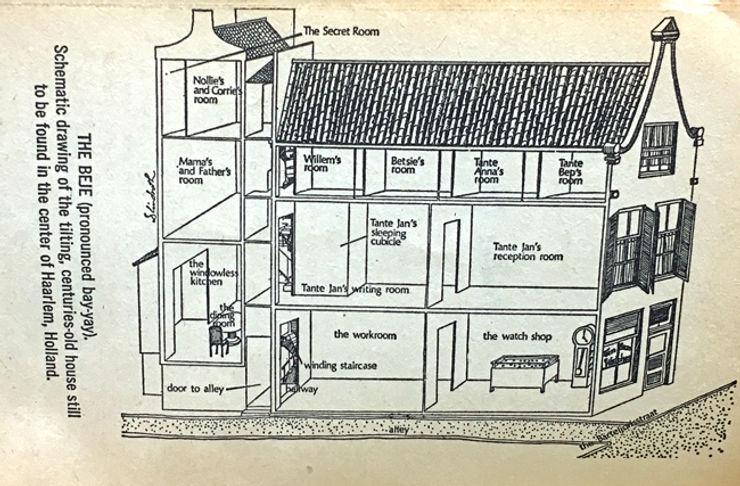 Shopping in Haarlem? Head to the Gouden Straatjes!
Haarlem is known for being an amazing shopping destination and if that's something you're into, then make sure to visit the Gouden Straatjes. This sweet nickname translates to the "Streets of Gold" and once there you'll quickly understand why! In these seven streets located around the "Grote Markt" you'll find everything from big brands to unique local boutiques and specialty shops. Their official names? Kleine Houtstraat, Koningstraat, Gierstraat, Anegang, Warmoesstraat, Schagchelstraat and Zijlstraat – that's what you should type on your GPS app!
evening

Enjoy a beer at a former church at De Jopenkerk
The Jopenkerk is an iconic bar and brewery located in a former church! It's also home to Haarlem's famous Jopen, a craft brewery whose beers you cannot miss while in the city.
Here, you can grab a fresh and cold one while overlooking Jopen's brewing kettles, where real beer is made six days a week! This is also a great place to enjoy a juicy burger or a vegan kebab for the veggie ones.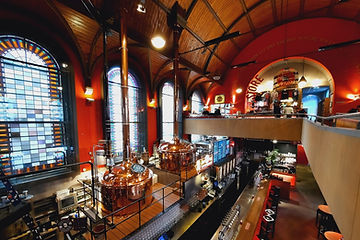 day 2: morning

Visit Windmill de Adriaan – a real Dutch windmill!
Looming over river Spaarne is Windmill de Adriaan, a charming tower mill that replicates the structure originally built in 1778 and later destroyed by a devastating fire in 1932. Throughout its history, de Adriaan served as a mill for trass (mortar), tobacco snuff, and flour.
Today, the mill functions as a museum where you can learn about the history of traditional Dutch windmills, see de Adriaan functioning from up close, and appreciate an amazing view of Haarlem's city center!
To visit the windmill, book a guided tour here.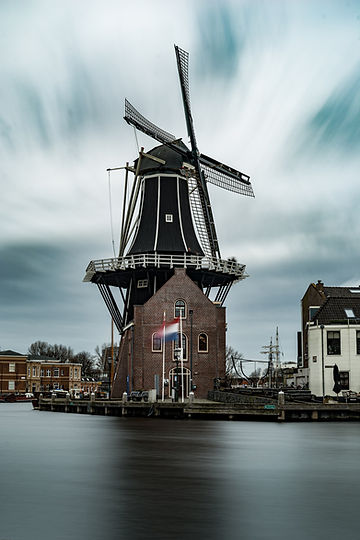 afternoon
Find Haarlem's Secret Courtyard Gardens (hofjes)
Another iconic attraction in Haarlem is the city's wonderful hidden gardens – known as "hofjes". These cute little gardens stand at the center of almshouses originally built by wealthy families to accommodate poor, unmarried, or widowed women. Haarlem's hofjes might not be so easy to spot, but they are worth the treasure hunt – we suggest that you follow this map to make things easier.
Discover 17th-century art at the Frans Hals Museum
A must for fans of art from the Dutch Golden Age, at the Frans Hals Museum you'll find not only an incredible collection of Hals' portraiture but also some amazing work from other Haarlem Academy artists. The museum is split between two buildings – the Hof and the Hal. Fun fact: the Hof part of the museum is located where originally stood the city's Oudemannenhuis – a retirement home for poor men
evening

Enjoy the sunset by river Spaarne, then dine at Spaarne66
As the sun sets, make sure to take a walk along the banks of river Spaarne – we can't think of a better way to end your stay in Haarlem.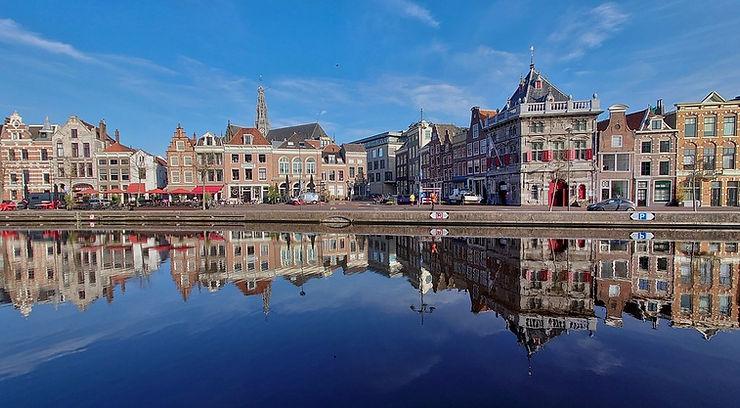 Then, head to Spaarne66 for a laid-back ambiance and delicious food. If you're in Haarlem on a sunny day, you can even sit on their lovely terrace and enjoy the fantastic views from there!
Where to Stay in Haarlem: Boutique Hotel Staats
Boutique Hotel Staats is located in a former school building just outside of Haarlem's historical center. Here, you'll find an intimate and peaceful atmosphere that makes it the perfect spot to relax after a long day exploring Haarlem.
Our favorite thing about Hotel Staats is that their rooms are tastefully decorated in a mix of modern and traditional Dutch design. We also love their excellent breakfast buffet serving fresh bread, buttery croissants, sweet and savory spreads, delicious fruit, and more!
—
We hope you've enjoyed our tips for your weekend in Haarlem – as you can see, the city is an amazing destination to relax and discover Dutch culture! If you're planning on visiting other places in the Netherlands, be sure to check more of our tips here. Don't forget to tag us on social media (@dernederlanden) when you visit the places we recommend – we can't wait to see you exploring Haarlem! Have a great stay and tot ziens! 😉🇳🇱