Are you craving the explosion of spices and tastes that only Indian cuisine can offer? Lucky you – this list will help you discover the best Indian restaurants in Rotterdam. No matter whether you're feeling like curries or biryani, eat-in or takeaway, or a relaxed or elegant atmosphere, Rotterdam has something for you. Check these out: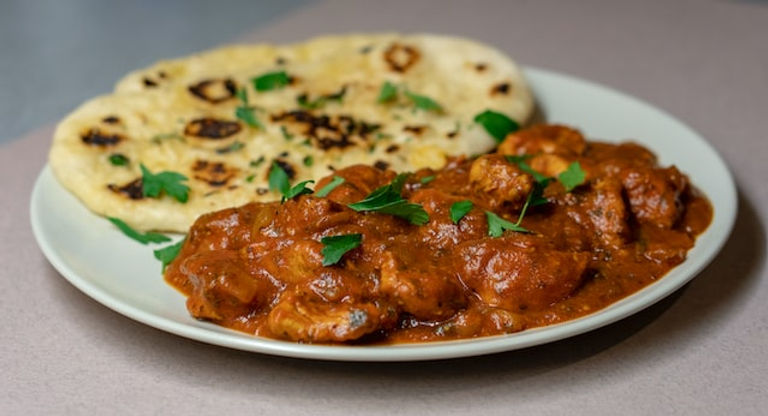 1.

atithi


Atithi is a classic Indian restaurant located in the center of Rotterdam. A colorful graffiti mural painted on one of the restaurant's exterior walls welcomes guests warmly – and makes for a gorgeous Instagram photo!

Once inside, Atithi's simple yet elegant décor matches the spectacularly authentic food served here. Since Indian cuisine is so diverse, their menu includes some of the finest dishes from different regions of the country. Atithi also offers vegan, vegetarian, halal, and gluten-free options. What more could you ask for?

Atithi | Vasteland 5a, Centrum
2.

what's up India


If you're looking for a refined experience, What's Up India is the place to be. The golden and blue interior creates an atmosphere that is both modern and classy, luxurious and cozy.

But the beautiful ambiance is not what makes What's Up India one of the best Indian restaurants in Rotterdam – it's the delicious, fragrant food that does. Each and every dish on their extensive menu is excellent. But be warned: What's Up India is often fully booked, so make sure to reserve in advance!

What's Up India | Eendrachtsweg 27 B-BE, Centrum
3.

biryani house


This casual restaurant serves a bit of everything when it comes to Indian cuisine. But their specialty is (surprise, surprise) biryani – delicious mixed rice dishes that can contain meat, or be vegetarian.

This is an excellent choice if you're looking for a quick and delicious meal just outside the center of Rotterdam. Plus, their generous portions are large enough to share – which makes it extra affordable!

Biryani House | Henegouwerlaan 91B, Delftshaven
4.

golden tulip


Another classy Indian restaurant in Rotterdam, Golden Tulip is located just outside the city center of the city. The impeccable food served here follows traditional recipes, and the menu mostly focuses on North Indian cuisine. The romantic atmosphere here makes this place perfect for a date night. But Golden Tulip is also family-friendly – they even have a kids' menu!

Golden Tulip | Jonker Fransstraat 237, Crooswij
5.

restaurant garam masala


Restaurant Garam Masala is a casual and cozy eatery that serves decadent and aromatic Indian dishes. Their menu includes biryani, tandoori, curries, and more! This is a fantastic choice for those looking for a high-quality Indian restaurant in Rotterdam that is centrally located, has a relaxed atmosphere, and won't break the bank.

Restaurant Garam Masala | Pompenburg 652, Centru
6.

55 Bombay street


55 Bombay Street is not exactly a restaurant, but a stall located inside the famous Markthal shopping center. Still, it serves some of the best Indian food in Rotterdam! All the excellent, handmade dishes served here are vegan or vegetarian – and they're so tasty you'll want to lick your fingers. Have we mentioned 55 Bombay Street is women-run? Definitely worth a visit next time you're around Markthal!

55 Bombay Street | Dominee Jan Scharpstraat 298 (Markthal), Centrum
7.

Punjabi food stadhuisplein


With locations both in the Netherlands and in the Czech Republic, Punjabi Food is a real hit! With three locations in Rotterdam, their restaurant on Stadhuisplein is the only one that is not inside a shopping center – and that's why it's our favorite.

The colorful, modern interior adds to Punjabi Food's atmosphere. The food here is also delicious – though it has more 'fast food vibes' than other restaurants on this list. If a quick, tasty meal is what you're after, this place won't disappoint you!

Punjabi Food Stadhuisplein | Stadhuisplein 36, Centrum
8.

the india paradise


The India Paradise prides itself on being the oldest Indian restaurant in Rotterdam, as it's been around since 1997! This place's long-standing success did not come by chance. The India Paradise treats Indian cuisine like art, and the exquisite food they serve here reflects that. Plus, their colorful, ornamented interior will make you forget you are in Rotterdam Crooswijk – you'll feel like you just teleported to India!

The India Paradise | Admiraal de Ruyterweg 20a, Crooswijk
9.

91spices


91Spices offers an Indian fine dining experience in the center of Rotterdam. From the moment you walk in, the modern, refined décor will get you in the mood for a real Indian feast! When the food comes, you won't be disappointed. 91 Spices' name matches the exquisitely spiced, aromatic dishes they serve. And here, fine dining does not translate into tiny portions. Hallelujah!

91Spices | Gelderseplein 46, Centrum
10.

namaste Nepali & Indian restaurant


Namaste serves excellent and authentic Nepali and Indian food in Rotterdam – all dishes here are cooked with fresh herbs and spices. Their mission is to be a haven of Indian warmth and hospitality, and it shows! Despite the simple interior, Namaste is a cozy and welcoming restaurant that will make you want to come back many times.

Namaste Nepali & Indian Restaurant | Oudedijk 154a, Kralingen

We hope you've enjoyed this guide to the best Indian restaurants in Rotterdam. We recommend that you enjoy some luscious tikka masala with fresh naan bread, then explore Rotterdam's nightlife in some of the city's hottest bars! Namaste!

P.S. Check out our travel blog for more amazing tips on things to do in the Netherlands. And don't forget to tag us on social media (@dernederlanden) when you post your holiday pictures!