A wave of tourists staring at women in lingerie behind red-lit windows. If that's the first thing that comes to your mind when thinking of Amsterdam's Red Light District, think again. Often seen as an area dedicated to sin and vice, the history behind the Red Light District is much longer and richer than most people can imagine. To demystify all the preconceptions surrounding the district, there's nothing better than diving deep into its past. Shall we?
Prostitution in Amsterdam – a brief history from the 1300s to 2000!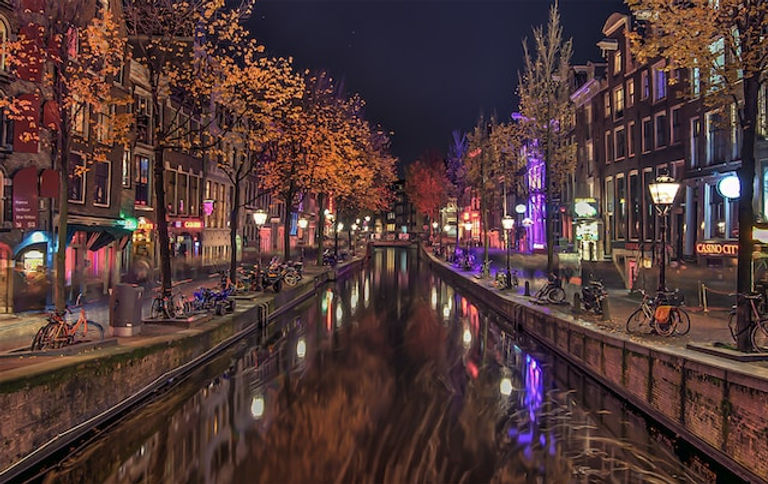 how it all began
Officially called De Wallen, the neighborhood's existence has been inextricably tied to prostitution throughout the years. Sex work in the area can be traced back to around the 1300s, when De Wallen was still a trading port. The first sex workers in the Red Light District had a loyal clientele consisting of sailors bringing merchandise into the area.
Uncoincidentally, Amsterdam was also granted city rights around the 1300s – De Wallen is one of the city's most ancient areas. That is to say that prostitution in Amsterdam is as old as the city itself! Though that may sound surprising, it makes a lot of sense considering prostitution is actually the world's oldest profession. As trade prospered in Amsterdam, the city swelled in size and prostitution larger. From the 15th century, there were already brothels and taverns in De Wallen where paid-for sex was offered.
The Many Challenges to Sex Work Throughout Amsterdam's History
Initially, these practices were frowned upon by Amsterdam's Catholic majority. Yet, they were tolerated and seen as a necessary evil to prevent 'honorable' women from being assaulted instead.
But this somewhat stable status-quo didn't last long. In the 16th century, sex work became prohibited and morally condemned as a consequence of the Reformation. The Reformists were stricter about their religious beliefs, and thought sex work was sinful and should be punished.
From then onwards, views on sex workers changed a lot throughout history. There were attempts to regulate the industry, to 'save' sex workers from their 'victimhood', and to prohibit sex work entirely once again.
The last blow to prostitution in Amsterdam was in 1911 when a brothel ban was established. This was the result of political collaboration between Orthodox Christians and feminists. Though most feminists today recognize sex work as a legitimate form of work, that wasn't the case back then. Feminists in the early 20th century were scared that socially tolerated prostitution would lead to an increase in women trafficking.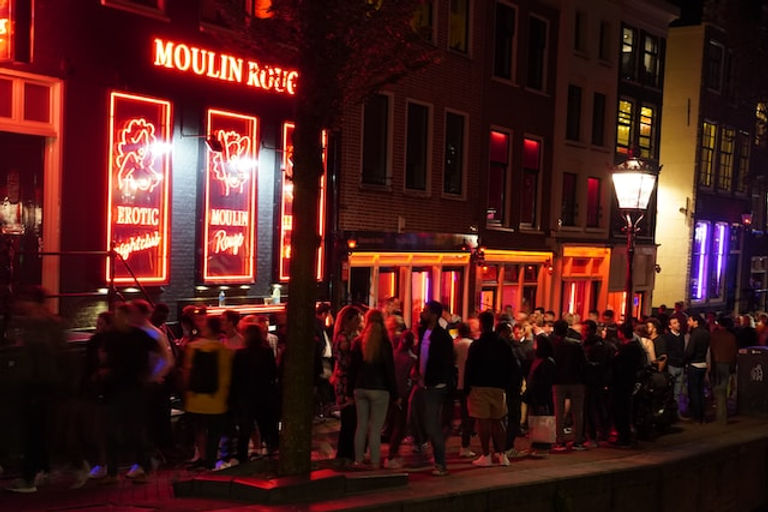 Prostitution survived (and thrived!) in Amsterdam despite the many challenges to its existence. That surely says something about sex workers' perseverance, and about the constant demand for sex work services in the city.
From the 60s – the district turns red!
So, how did sex workers in the Red Light District begin to offer paid-for sex through their windows? After the brothel ban was established, sex workers needed a subtle way to offer their services. Standing behind their windows proved to be the perfect solution!
Around the same time, brothel owners began using red lights to discreetly mark their establishments. Throughout history, red has been associated with sex, passion, and prostitution in different contexts – in the Bible, in fashion, in literature, and more!
By the 1960s, these practices were widespread and brothel windows became more evident and open. Sex work grew and gradually became more tolerated. Throughout the 80s and 90s, political pressures in favor of sex work grew steadily.
Finally, the brothel ban was lifted on October 1st, 2000. This was a turning point for sex work, because regularized the profession. Proper oversight by the authorities meant that working conditions inside brothels improved!
What is Sex Work like in Amsterdam today?
Today, sex work is legal in the Netherlands.
Still, there are a set of rules and conditions those in the industry must follow. First and foremost, individual sex workers and establishments must be licensed by their municipalities. Also, soliciting sex work outside of designated areas is prohibited – hence the concentration of establishments in the Red Light District!
Other regulations also include the minimum age of 21 to practice sex work in Amsterdam. Plus, all sex workers must be EU citizens to prevent human trafficking. Police regularly conduct checks in the Red Light District. Not following the rules can result in hefty fines and even the closing of the brothel!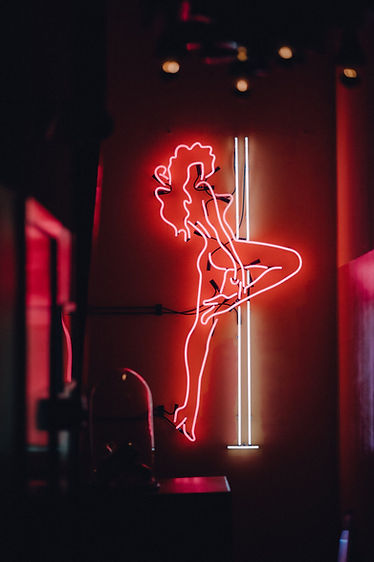 how to visit the Red Light District
Visiting the Red Light District in Amsterdam is very easy. All you have to do is walk along the Oudezijds Voorburgwal until you reach the Oude Kerk – the oldest building and parish in Amsterdam! You'll then find yourself in De Wallen.
Visit during the later hours to catch a glimpse of the sex work scene in Amsterdam. You'll see many brothels, strip clubs, and bars. The area is generally safe, but watch your belongings as pickpockets may be around.
When it comes to the workers behind the windows, please be respectful. Don't laugh at or mock them. Also, taking pictures is not appreciated and security guards from brothels may (not-so-nicely) demand that you delete them.
If you choose to explore the district during the day, the Oude Kerk is beautiful and worth a visit. You can also walk along the Trompettersteeg – at 90cm wide, this is the narrowest alley in Amsterdam. Two true testaments to the city's distinctive architecture!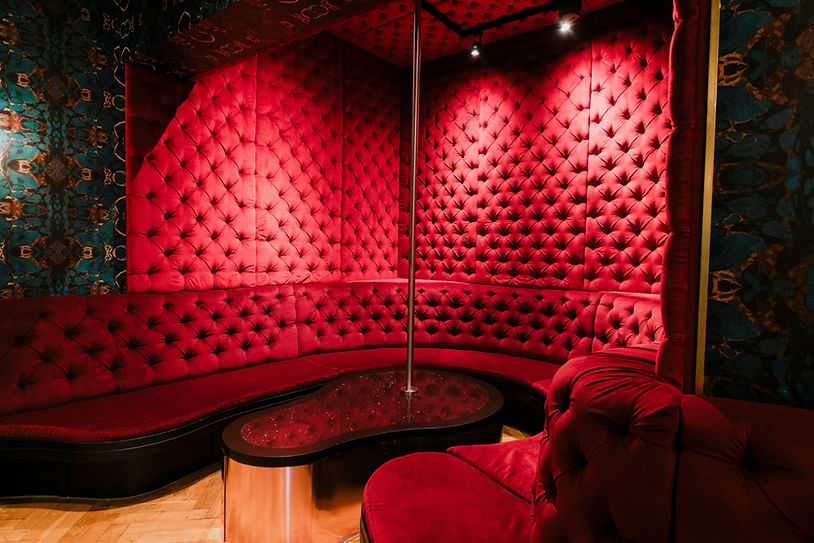 Tour de BonTon: Unfiltered Stories about Sex Work in Amsterdam
Are you curious to learn more about sex work in Amsterdam, or perhaps you wish to get some real insights into what it's like being a sex worker in the city?
We strongly recommend visiting the Tour de BonTon. The tour is a unique chance to connect with an (ex) sex worker in a way you'll hardly find anywhere else in Amsterdam.
Entering through a discreet door beside an art supply just south of the city center, you discover a world of luxury and exclusivity, unlike anything you see in De Wallen. The place is much more than a great response to the problems seen in the Red Light District. BonTon is sultry, beautiful, and leaves the awkwardness of peeking through sex workers' windows aside. Though the tours happen during the day, at night BonTon becomes a real temple of pleasure for those seeking sensual entertainment.
You'll participate in open and honest conversations, ask all your burning questions, and hear funny stories from someone who has experienced the sex work scene firsthand. Our favorite thing about BonTon is that it undoes all the myths and misconceptions you may have about the sex work industry. Here questions such as why women choose to work in the sex industry and what they experience as sex workers will be answered whilst casually sipping a drink and having a chat with an ex-sex worker. This will change your perspective on the people involved in the industry and will allow you to see her for what she is – A complex and interesting human being, just like you.