Ah, King's Day! The day when the whole of the Netherlands dressed in orange to celebrate King Willem-Alexander's birthday. King's Day is the most anticipated holiday in the country for a reason – from north to south, people of all ages party for over 24 hours.
If drinking crazy amounts of alcohol, dancing in the streets, and buying random stuff at open-air flea markets sounds fun to you, you're going to have a blast on King's Day in the Netherlands. We've put together this guide to help you celebrate like a local. So grab your most vibrant orange outfit and read on!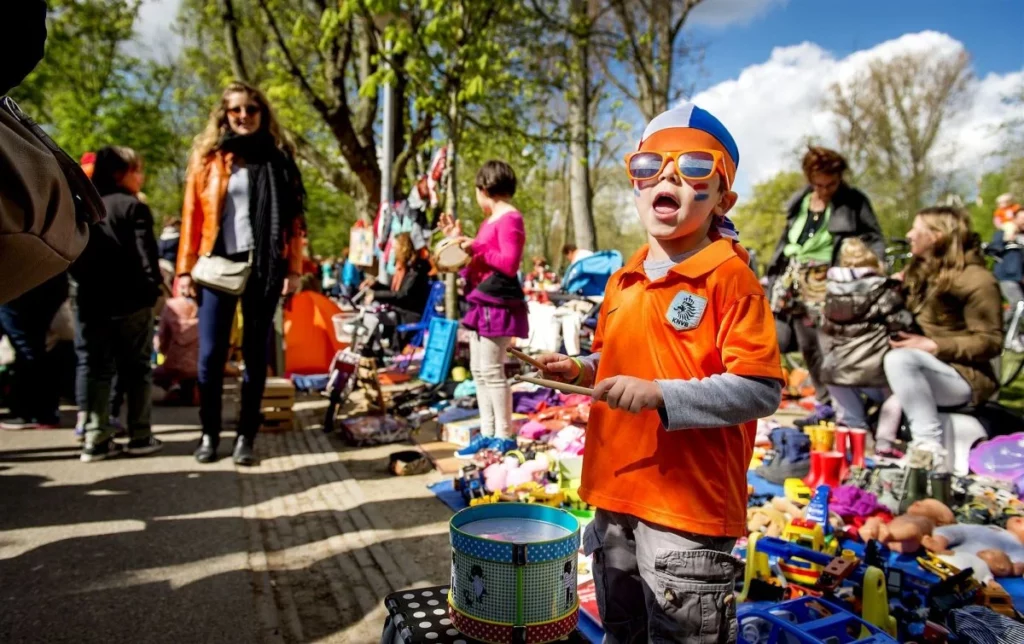 What is King's Day in the Netherlands?
Called 'Koningsdag' in Dutch, the celebration is basically the biggest birthday party in the world!
Though today the holiday is a way to celebrate King Willem-Alexander, it has actually been observed for over a century now! This quintessential Dutch tradition was initially called 'Princess' Day', since it started in 1885 as a celebration of Princess Wilhemina's birthday. When Wilhemina became queen, the holiday began to be called 'Queen's Day'.
Since then, the tradition has been passed down from generation to generation. Today, King's Day in the Netherlands is celebrated on April 27th – the exact date of King Willem-Alexander's birthday. Luckily for us revelers, the day usually comes with some beautiful spring weather!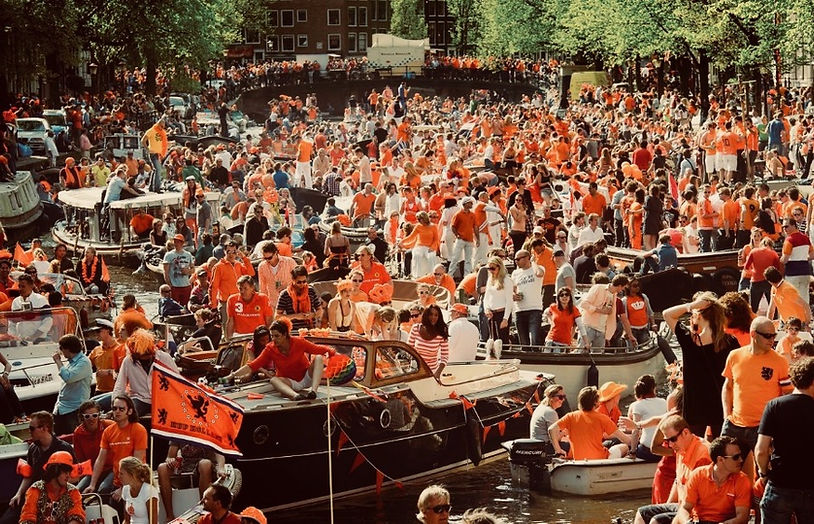 What happens on King's Day?
Perhaps the most distinctive thing about King's Day is that everything and everyone is dressed in orange. For centuries now, the color has represented the Dutch Royal Family – because they are members of the House of Orange-Nassau. So, Dutchies signal their pride by wearing their brightest orange outfits, decorating the streets in orange, and even by savoring orange-colored treats!
The morning usually starts with people selling stuff at open-air flea markets that they set up themselves. So, King's Day is the ideal time to score some second-hand bargains. You can also join the markets and make some cash out of stuff that is collecting dust around the house!
In every Dutch city, the streets quickly get filled with people drinking and dancing to loud music. You'll be able to get yourself some beers at outdoor stalls, and there'll be music stages set up at strategic points. It's also common to go bar-hopping, and people often party in front of the bars themselves. Establishments tend to attract party-goers by blasting some fun music outside.
Rivers and canals also tend to get filled with boats on King's Day. People will decorate their boats, and start celebrations by getting drunk on the waters! Boat rental companies usually sell out months in advance, so make sure to book way ahead. Plus, get on your boat outing as early as you can. Some years, traffic on the waters was so crazy later in the day that boats got stuck.
Of course, the Dutch Royal Family will also participate in King's Day celebrations. Each year, they pick a different city in the Netherlands to visit on King's Day. The chosen city will organize special celebrations, such as a welcoming parade, concerts, performances, exhibitions, and more! In 2024, King WIllem-Alexander and his closest family members will be celebrating King's Day in Emmen. You can read more about this below!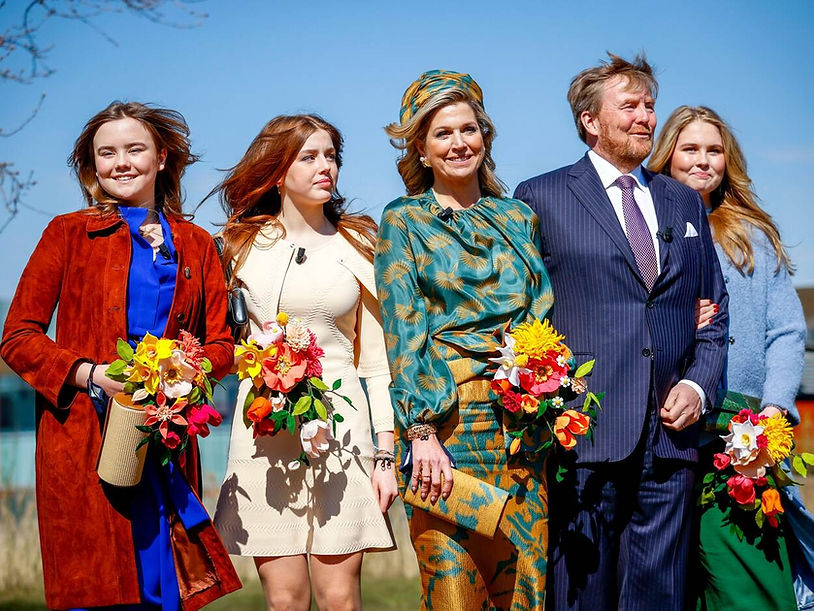 Celebrating King's Day with children
Wondering how to celebrate with your little ones? Don't worry, Dutch kids tend to love King's Day. They'll entertain themselves by playing some traditional King's Day games – such as 'nail pooping' and 'biting the cake'. Many kids will also set up their own second-hand stalls. They'll often make quite a bit of money out of being the cutest street vendors you've ever seen. That's where the Dutch entrepreneurial spirit comes from!
Here are some popular King's Day traditions:
Setting up your own flea-market stall on the streets. Some items people tend to sell include food, drinks, clothes, furniture, decorations, toys, and more! In the days leading up to King's Day, people reserve a spot for their stall by marking it with chalk on the floor. So be quick to grab your preferred location!
Eating orange treats, the most famous of which is 'tompouce' – a cream-filled cake with an orange coating. But anything from pumpkin salad to orange M&Ms will do!
Celebrating the king by taking a shot of orange bitter – a citric Dutch liquor made from orange peels.
Hanging an orange pendulum over the Dutch flag. As you may have noticed, the Dutch flag is white, red, and blue – there is no orange! So, this is a way the Dutchies have found to honor the royal family on King's Day.
For kids and parents, playing traditional King's Day games such as 'spijkerpoepen' (nail pooping), and 'koekhappen' (biting the cake). Here you can find explanations (in English!) for the most famous of these games.
How and Where to Celebrate King's Day in 2024
You don't need much to have an authentic King's Day experience. Get out on the streets and explore! You'll easily find parties to join pretty much anywhere in the country – though the city centers tend to be the most lively spots for partying.
As you might expect, Amsterdam is by far the most popular place to celebrate King's Day. There is a lot going on in the city – from music stages to a sea of boats in the canals, to late-night parties. If you like partying in a crowd, you're going to love celebrating King's Day in Amsterdam!
You may also want to consider other Dutch cities for King's Day. Utrecht is well-known for hosting open-air flea markets unlike anywhere else – there, the bargains start the night before! The Hague is also an excellent option for a less chaotic (but still incredibly fun) King's Day experience.
Since many streets are blocked on King's Day and it's difficult to find parking spaces in the cities, your best bet is to use public transportation to reach the celebrations. There are usually special transport schedules on the day, but fear not – public transportation in the Netherlands is of high-quality.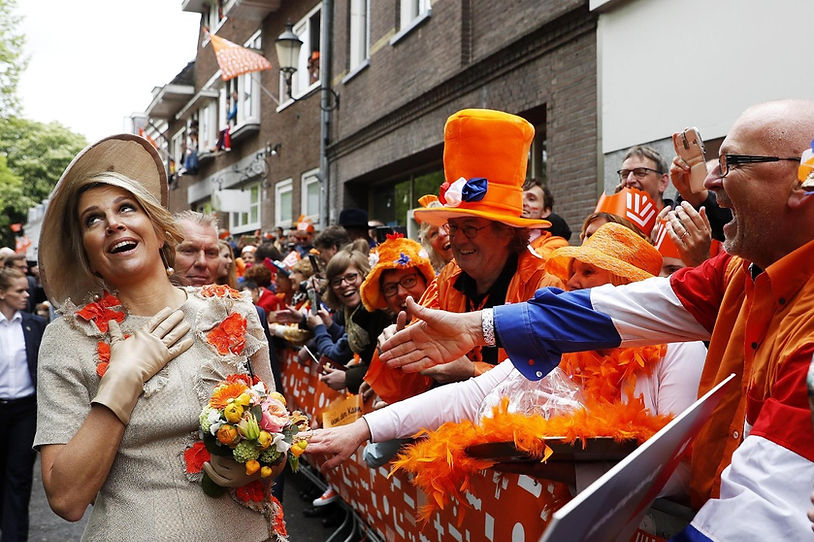 King's Day in Emmen 2024
This year, the Dutch Royal Family will be celebrating King's Day in Emmen!
King Willem-Alexander, Queen Máxima, and princesses Amalia, Alexia, and Ariane tend to celebrate by participating in parades, chatting with locals, and playing King's Day games. The city chosen by the Royal Family tends to put on a special program each year. Emmen is yet to announce its plans for celebrating the King's birthday, but the program will be available here once it's released.
Music Festivals on King's Day
There are also music festivals taking place throughout the country on King's Day. Some of the most popular ones include Kingsland, Supersized Kingsday, and Loveland. Despite these being a lot of fun, we recommend that you stick to celebrations in the cities if this is your first King's Day. That's because you can find a good festival anywhere, but an authentic King's Day experience can only be enjoyed on Dutch streets!
Excited to celebrate King's Day this year? So are we! We hope that this guide has helped you better understand what King's Day is all about, and to make plans for the big day. If you've enjoyed learning more about King's Day in the Netherlands, check out our guide to Dutch Carnival celebrations. They are yet another way the Dutchies show us how good at partying they really are!
Lang leven de Koning, en geniet ervan! – 😉🇳🇱